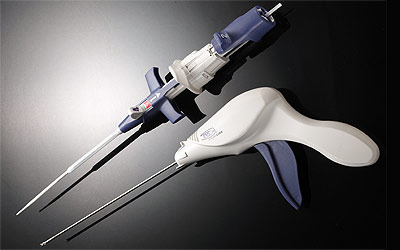 Medtronic acquired Angiolink, a medical device company focused on developing innovative wound closure solutions for vascular procedures. Angiolink's vascular closure system is engineered to close the femoral artery access site after vascular procedures, such as diagnostic angiography, balloon angioplasty and stenting.
Physicians use vascular closure systems to close arteries used as entry or access sites into the body for vascular procedures, such as coronary stenting and angioplasty. The EVS System provides safe and effective mechanical closure of arterial puncture sites without disturbing the lumen, or interior, of the targeted vessel. The system can be used by a single operator and is designed to apply a titanium staple that stabilizes and closes the artery. The system is designed to quickly stop access site bleeding and contribute to reducing patient recovery time.
"Given the long, successful clinical history of using staples for vascular closure in surgical procedures, it makes sense to apply the same technology to close the femoral artery," said principal investigator Dr. Gary Ansel. "The deployment of the extravascular staple is very easy and not technique dependent. What I found particularly compelling from the clinical trial experience was that I can now safely and effectively close patients independent of vessel anatomy, access site location or the presence of peripheral vascular disease. I expect the EVS System to quickly emerge as a market leading device."
"We are pleased to add this unique technology to our product portfolio," said Scott Ward, president of Medtronic Vascular. "The acquisition of the EVS closure technology complements our full line of coronary and endovascular products; and having secured FDA approval this week for the EVS System, we are eager to actively begin the marketing of this device worldwide."
"This has been an outstanding month for Angiolink, as we have received FDA approval for our EVS System, and we have now joined the world's leading medical technology company," said Jim Lousararian, president and CEO of Angiolink. "We are very excited to join Medtronic and look forward to working with the company in pursuing our goal of putting market-leading closure devices into the hands of physicians around the world."
Angiolink provides medical devices for vascular access management, interventional cardiology, and wound closure.
Medtronic is a medical technology company that provides life-long solutions for people who are chronically ill.