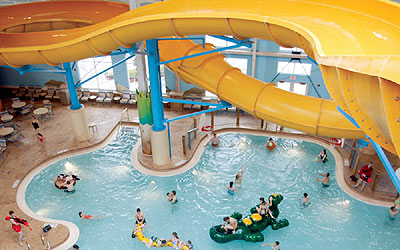 Blue Harbor Resort and Conference Center opened its doors today in Sheboygan, Wisconsin. Situated on the Lake Michigan beachfront, the Grand Victorian resort welcomes business travelers and vacationers to enjoy the first-class indoor waterpark and conference center set in a nautical atmosphere.
"Drive-to destinations within a close proximity to home have become the travel trend over the last few years, for both leisure and business travelers," said Eric Lund, senior vice president of sales and marketing for The Great Lakes Companies. "Host to August's PGA Championship Golf Tournament, Sheboygan County is a destination in itself and Blue Harbor Resort will contribute meaningfully to the area's tourism."
The perfect blend of comfort and excitement, Blue Harbor Resort includes: 183 family-sized suites; a 40,000 square-foot indoor waterpark; Elements - an Aveda Concept Spa; two casual themed restaurants - On The Rocks Bar and Grille and Rusty Anchor Buffet; homemade fudge and delicious treats from Sweetshop Landing confectionery and cafe; and fine dining at Weissgerber's Seabird Restaurant and Blue Point Wine and Tapas Bar, located in the conference center.
As guests enter the 5,000 square-foot, three-story Grand Lobby, they will find themselves in the very heart of the resort. In addition to being greeted by the friendly staff and the incredible Lake Michigan view, guests will take notice of the world's largest hand-blown glass fish fountain, Dancing Blue Fountain.
Inside the colossal, underwater-themed, indoor waterpark, Breaker Bay the temperature is 84-degrees. Featuring seven waterslides, four pools, including an oversized whirlpool, guests will be submerged in nearly 200,000 gallons of fun. The four-story Lighthouse Pier has over 60 interactive geysers and sprays. Atop the 48-foot structure is a 1,000-gallon "sinking ship" that fills with water every few minutes, tips and drenches everyone gathered below.
Beyond the water adventure, kids will love the resort's enormous arcade and ticket redemption center, and parents will appreciate the family friendly atmosphere. The black-lit, action-packed arcade features over 100 games.
Crew Club, the children's activity and birthday party room, is located next door, where the Ambassador of Fun leads children in entertaining and educational arts, crafts and activities. Crew Club offers a frequent stay program for children of all ages, including a Crew Club membership newsletter.
For those wanting to slow things down, Elements - An Aveda Concept Spa offers six feng shui treatment rooms for facials, massages, spa treatments, manicures, pedicures and a hair salon. The spa, as well as the resort's four restaurants, is open to the public.
Blue Harbor Resort and Conference Center is part of the World's Largest Family of Indoor Waterpark Resorts owned and operated by Great Wolf.