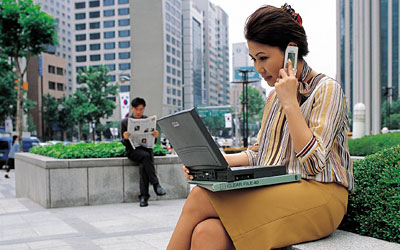 Xpherix today announced the introduction of Remo, a comprehensive connectivity solution for mobile subscribers, developed for Qualcomm's Binary Runtime Environment for Wireless (BREW) platform. For less than $8 per month, Remo is a powerful communications tool that provides integrated remote access to Email, contacts, and calendars on everyday data-enabled phones.
Remo is designed to address the millions of PC and mobile phone users who remain disconnected from vital information while out of the office because they simply cannot or will not pay the increasing costs for a Blackberry, Smartphone, or other high-priced hybrid devices. Between purchase prices, set-up costs and monthly subscription fees, such devices can cost more than $800 in the first year alone.
Road warriors are not only looking for a less expensive solution, they are also looking to lighten their load when traveling or away from the office. Between mobile phones, laptops, PDAs, Blackberry-like devices, and pagers, mobile professionals have had to juggle multiple devices to remain productive. Remo wirelessly connects mobile professionals to critical information held in their PC at a fraction of the cost of current solutions and does it by using the most useful device -- the mobile phone.
Using Remo's Get Email function, which provides access to up to seven different, user-specified, POP or POP3 Email accounts, subscribers can easily view, reply, and send Email right from their mobile phone. Remo's Calendar function enables subscribers to use the mobile phone to view, add, edit or delete calendar events stored in their home or office computer, even when the computer isn't on. Any changes made on the phone are automatically synchronized back to their Microsoft Outlook calendar. The Contacts function enables subscribers to access phone numbers, addresses, Email addresses and even the notes field from applications including Microsoft Outlook, Microsoft Outlook Express or Palm software.
To help further address the sometimes frustrating letter entry function on mobile phones, Remo offers a 'Quick Message' response feature for Email correspondence. Subscribers may save up to 50 common Email responses and the product comes preloaded with 22 'Quick Messages' which the user can easily tailor. For Emails in need of more immediate, specific or lengthy attention, Remo's integrated contacts capability allows users to easily respond to an Email with a phone call without having to change devices or manually enter phone numbers.
Remo is the latest addition to Xpherix' award-winning product set. Only two months after its launch, Xpherix' first BREW product, iPhonebook, was recognized as the "Best Productivity Application" at Qualcomm's BREW Developer Conference.