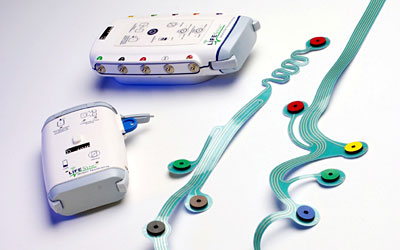 GMP Companies today announced that Mercy Hospital in Miami, Fla. has adopted the LifeSync Wireless ECG System. The technology has been deployed in the hospital's Intensive Care Unit (ICU) and Cardiac Care Unit (CCU).
"We are very pleased to be the first hospital in the nation to adopt the latest breakthrough in ECG monitoring," said Raul Moas, M.D., medical co-director of Mercy Hospital's Critical Care Units. "Our most important mission at Mercy Hospital is to provide our patients with optimum care. As we tested the LifeSync System, we found that the product enhanced patient comfort, transport and mobility."
Cleared by the Food and Drug Administration (FDA), the LifeSync System is the first ECG (electrocardiogram) system enabled by Bluetooth wireless technology. In addition, the LifeSync System is the first monitoring system that eliminates lead wires and trunk cables between patients and bedside, 12-lead or transport ECG monitors. The LifeSync System employs two-way radios that collect and transmit patient ECG and respiration data to existing ECG monitors, and replaces lead wires with a disposable LeadWear system. The LifeSync System is designed to save critical nurse time by eliminating the need to detach and reattach lead wires when transporting patients, and also facilitates patient mobility and ambulation. The system provides the opportunity for enhanced patient comfort and may reduce the risk of cross contamination from reuse of lead wires.
"We are delighted to be working with Mercy Hospital to provide their patients with our wireless ECG monitoring system," said Matt Likens, executive vice president of operations for GMP Companies. "The LifeSync System offers Mercy an ECG monitoring solution that is easy to implement and without costly changes to the hospital's infrastructure. It is gratifying to know that our product helps patients and healthcare providers alike."
An Electrocardiogram (ECG) is a non-invasive test that measures the electrical activity of the heart, heart muscle damage, arrhythmias (abnormal heart rhythms), signs of a heart attack, a decrease in oxygen supply, and whether an internal cardioverter defibrillator or pacemaker is working properly. ECGs and other vital sign monitoring are conducted continuously in critical care environments such as the intensive care unit (ICU), coronary care unit (CCU), and cardiac catheterization and diagnostic stress testing labs. ECGs are also routinely performed in physician offices and other medical facilities. Approximately 65 million ECGs will be performed in the U.S. in 2004.
The patented LifeSync System uses standard ECG electrodes which are attached to the disposable LeadWear System worn by the patient. Two electronic components, the Patient Transceiver and the Monitor Transceiver, function as two-way radios that collect and transmit ECG and respiration data to existing bedside or transport ECG monitors. The Patient Transceiver, worn on the patient, communicates with the Monitor Transceiver, placed on or near the ECG monitor. The transceivers are synchronized with a pairing token to establish a secure and robust radio link between the Patient Transceiver and the ECG monitor. The LifeSync System has also received approval from the Federal Communications Commission (FCC) to operate using public radio frequencies required for signal transmission.
GMP Companies develop and commercialize pharmaceutical, diagnostic and medical device technologies.
GMP Wireless Medicine (now part of LifeSync)is focused on developing wireless patient monitoring systems. The Company's proprietary products and product candidates are designed to eliminate wires and cables that physically connect a patient to an ECG monitor or other monitoring systems. These products are intended to enhance conventional monitoring devices to reliably and efficiently collect patient data and send them to existing monitors. Untethering patients from monitors may provide benefits to healthcare professionals and medical facilities, including enhanced patient comfort, improved nurse satisfaction, easier patient ambulation, and time savings for the hospital and healthcare provider.