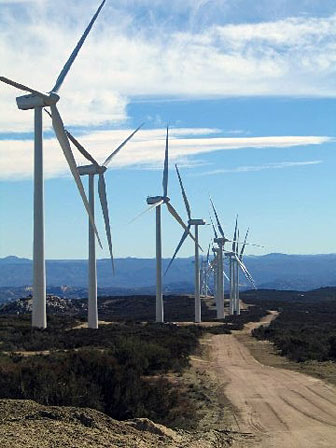 Electricity from the largest wind power farm on Indian land has begun flowing into California's power-hungry grid because of a partnership between project sponsor Babcock & Brown and GE Energy Financial Services. Energy Financial Services invested $51 million in the 50-megawatt Kumeyaay Wind project near San Diego.
The wind farm comprises twenty-five turbines that each can generate two megawatts of electricity. After eight months of construction and a month of testing, the turbines are feeding power into the San Diego Gas & Electric grid from the Campo Indian Reservation atop the Tecate Divide. Babcock & Brown has six wind facilities in the United States that will go into service by year's end.
"The Kumeyaay project represents significant growth of our already sizeable renewable energy portfolio. Consistent with GE's ecomagination initiative, it builds on our investments earlier this year in seven German wind farms, and continues our productive relationship with Babcock & Brown," said Alex Urquhart of GE Energy Financial Services.
Ecomagination is GE's commitment to expand its portfolio of cleaner energy products while reducing its own greenhouse gas emissions.
"For us, this transaction is consistent with our strategy of working with investment partners to expand in the rapidly growing wind energy sector, particularly in the United States and also continues our long and successful relationship with GE in power," said Hunter Armistead of Babcock & Brown.
For the Campo tribe, the wind farm diversifies its income from the lease of the land beneath the turbines.
The Kumeyaay Wind farm annually will produce power sufficient for about 30,000 homes and will save approximately 110,000 tons a year in greenhouse gas emissions, compared with equivalent fossil fuel generation. It will help San Diego Gas & Electric meet its target of supplying at least 20 percent of its customers' electricity from renewable sources by 2010.
The transaction is the second renewable energy investment in San Diego County by GE Energy Financial Services this year. The first was an investment in solar roofs covering public schools.
GE Energy Financial Services offers structured equity, leveraged leasing, partnerships, project finance, and broad-based commercial finance to the global energy industry.