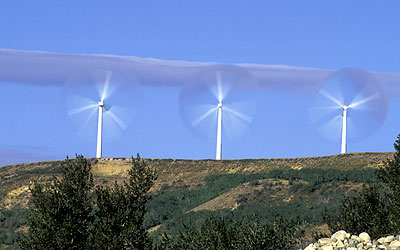 Governor Bill Richardson and executives of FPL Energy and Public Service Co. of New Mexico (PNM) were joined by hundreds of business, environmental and community leaders today to dedicate the New Mexico Wind Energy Center, the world's third largest wind generation facility.
The wind center is located near House, N.M., which is home to 69 people.
The wind center captures eastern New Mexico's brisk winds to produce up to 204 megawatts (MW) of electricity, or enough to supply 94,000 average-sized homes. Unlike most power plants, it uses no water for energy production -- an important feature in a drought-stricken state. FPL Energy, a subsidiary of FPL Group, owns and operates the wind center; PNM, a subsidiary of PNM Resources, purchases all of its output.
"I want our state to be a national leader when it comes to wind and solar energy," said Gov. Bill Richardson. "The New Mexico Wind Energy Center is a great first step toward fulfilling my goal to have 10 percent of New Mexico's energy come from renewable sources by 2010."
Jim Robo, president of FPL Energy said: "The New Mexico Wind Energy Center is a prime example of a great project put together by a terrific team. Through hard work, dedication and teamwork, we have put together a project of which we can all be proud. We appreciate the support we have received in the area for our company and this project and are grateful for the commitment by our partners to wind energy."
"With this facility now operational, we have crossed a threshold from worthy goal to new reality in New Mexico," said Jeff Sterba, PNM chairman, president and CEO. "This is a living symbol of what can be accomplished when the public and private sectors work together to achieve sustainable economic prosperity."
The new facility catapults New Mexico to top-ten status among the 50 states for renewable energy production. It also allows PNM, the state's largest electric and gas utility, to begin offering renewable energy to its 385,000 electric customers for the first time.
Albuquerque lawyer Suedeen Kelly, a White House nominee to fill a vacant position on the Federal Energy Regulatory Commission (FERC), today became the first PNM residential customer to subscribe to PNM Sky Blue, PNM's voluntary renewable program. The program begins today. Kelly was a commissioner on and chair of the state Public Service Commission, a predecessor organization to the state's current Public Regulation Commission, and currently practices law with Modrall, Sperling, Roehl, Harris & Sisk, P.A., a New Mexico-based law firm.
The wind center will generate a local economic impact of more than $40 million during the next 25 years through lease payments, salaries and payments to local school districts in lieu of taxes.
"This has been a wonderful shot in the arm for the community," said Renee Carter, whose cattle ranch plays host to six of the center's 136 wind turbines. "The droughts have really hurt the local ranchers and farmers, and this has given us a viable option to keep our homes and ranches."
"Agriculture is our bedrock business. Now the locals are able to hang on, in spite of the drought, and to look to the future," she said.
The Coalition for Clean Affordable Energy (CCAE), New Mexico's largest energy-oriented consumer interest and environmental group, hails the new wind farm as a major step forward for New Mexico.
"This very serious wind power facility will displace half a million tons of carbon dioxide, a greenhouse gas and the main cause of global warming, use no water to do so, and will bring great benefits to our rural communities," said Ben Luce, CCAE chair. "We strongly encourage New Mexicans to support this project, and thereby help us expand renewable energy generation even further in New Mexico."
The wind center is located 20 miles northeast of Ft. Sumner. The turbines sit atop towers 210 feet tall and are powered by blades more than 110 feet in length.
FPL Energy is a leading unregulated wholesale generator of clean energy, including natural gas, wind, solar, hydroelectric and nuclear. It is the nation's leader in wind energy with 32 wind facilities in operation in 11 states. FPL Energy has a generating portfolio of more than 10,000 net megawatts in operation with more than 2,000 megawatts coming from clean and renewable wind energy.
PNM is the principal subsidiary of PNM Resources, an energy holding company based in Albuquerque. PNM provides natural gas service to 441,000 gas customers and electric utility service to 378,000 customers in New Mexico.