InSight Mars lander - Yenra
From Yenra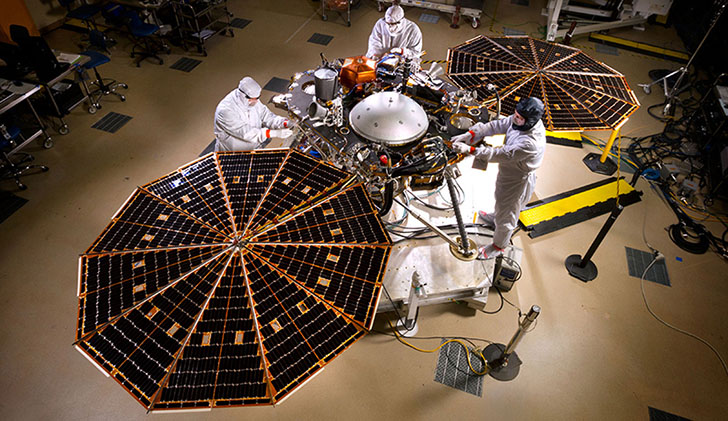 On April 30, 2015, Lockheed Martin engineers and technicians test the deployment of the InSight lander's solar arrays.
On December 16, 2015, Lockheed Martin delivered NASA's InSight spacecraft to Vandenberg Air Force Base, California. The lander will now undergo final processing in preparation for a March 2016 launch aboard a United Launch Alliance Atlas V 401 rocket.
The InSight lander will study the deep interior of Mars and will address one of the most fundamental questions of planetary and solar system science: how did the planets form? The mission will help scientists understand the processes that shaped the rocky planets of the inner solar system more than four billion years ago. Lockheed Martin designed and built the spacecraft and is responsible for testing, launch processing and mission operations.
The 1,380-pound spacecraft, consisting of the lander, aeroshell and cruise stage, was shipped aboard a U.S. Air Force transport plane in an environmentally controlled container. The plane, spacecraft and support personnel took off from Buckley Air Force Base in Aurora, Colorado and touched down at Vandenberg Air Force Base. While at Vandenberg at the Astrotech Space Operations facility, the spacecraft will undergo final processing including the installation and testing of the SEIS instrument, system-level checkout, propellant loading and a spin balance test.