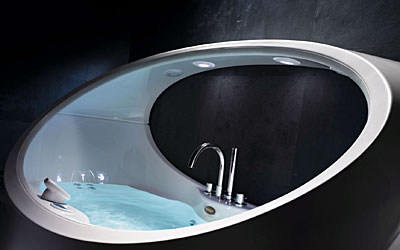 Jacuzzi has announced a new initiative called Morphosis and unveiled a new series of whirlpool baths -- Alpha, Gamma, and Sigma -- that were designed in conjunction with Pininfarina, legendary for their Ferrari car designs.
Morphosis is a new and important Jacuzzi initiative focused on seeking out ventures in order to combine the best design aspects from outside the bath industry with the performance and technology of Jacuzzi.
From the Greek word morphosis -- to take shape, and also Morpheus, the god of dreams, the new Alpha, Gamma and Sigma whirlpool baths merge high-end design with hydrotherapy innovation. The fluid shapes of the bath tubs pair ergonomics with artistic design for a product that will be the centerpiece of the bathroom.
"This first series of tubs coming out of the Morphosis initiative are luxury whirlpool baths designed for the most discerning homeowner," says Kent Baker, president of Jacuzzi Whirlpool Bath. "In this initiative we actively sought to integrate astoundingly different and forward-thinking design with what we know best -- the movement of water. Our partnership with Pininfarina brings together two brands known for performance and innovation to elevate bathroom design to a whole new level."
Each of the three whirlpool baths in the Morphosis line envelopes the bather with unique design elements that unite technology with simplicity:
Alpha - a two-person whirlpool tub features a sleek design and an arch that runs above the bath to represent a protective gesture; the Alpha tub has four body and eight back jets that deliver relaxing and rejuvenating hydrotherapy. Chromatherapy lighting enhances the experience, including four translucent fiber optic lights that radiate from the jets and two LED lights that emit ambience from the arch.
Gamma- a corner whirlpool bath that offers ample space to enjoy the multi-sensorial experience; the Gamma tub has similar jet and chromatherapy lighting as the Alpha.
Sigma - a single bath that cradles itself around the bather to maximize the hydrotherapy experience; the Sigma tub has nine jets for back and body massage, and two translucent fiber optic lights from the jets and two LED lights from the arch to enhance the mood.
Devoted to identifying and understanding the unmet needs of consumers, Jacuzzi delivers creative technological solutions that address both the physical as well as the emotional connections we have with bathing. Jacuzzi's heritage and brand leadership in hydrotherapy is built upon the philosophy of fulfilling consumers' needs, and it is the driving force behind Jacuzzi's new product development process.
Jacuzzi designs bath and spa products that combine warmth, water, and air movement in invigorating massage combinations to rejuvenate, relax, and reconnect.