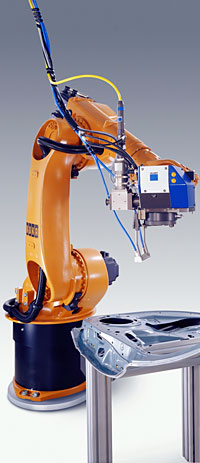 KUKA Robotics will work with EWI's engineers on advanced joining technologies and processes. Partnering with EWI will extend KUKA Robotic's engineering capabilities by utilizing the institute's expertise in materials joining technologies.
"EWI is the premier engineering organization in North America for joining technology," said Joe Campbell of KUKA. "With their direct industrial expertise and our high performance robots we will be able to give our customers the most advanced solutions available for welding applications."
"We are very excited about this relationship," said Stanley Ream of EWI. "KUKA is a world class company and a leader in robotically enhanced joining applications. We're looking forward to working with them on laser and laser/MIG hybrid welding processes."
KUKA Robotics' high performance robots are ideally suited for demanding applications such as laser welding. The company's 5 and 6 axis robots range from 3kg to 500kg payloads, and 635mm to 3700mm reach, all controlled from a common PC based controller platform. As part of its partnership with EWI, KUKA has placed one of its robots in the institute for process development.
EWI is an engineering and technology organization dedicated to welding and materials joining.
KUKA Robotics manufactures industrial robots controlled from a common PC based controller platform.