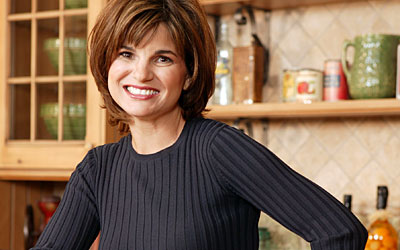 You don't have to tell Jennifer Bushman, author of the just-released cookbook The Kitchen Coach: Weeknight Cooking, that women are taking to the outdoor grill nowadays with as much vigor as their male counterparts.
The founder of Reno's Nothing to It Culinary Center says that among the 4,000 people she taught in her Weber grilling classes across the country, the number of female attendees have more than doubled during the last three years. "My classes are filled with women wanting to polish up on their grilling skills to make after-work meals even simpler or to put together a weekend grilling party that will impress their family and friends," she says.
Bushman is the next guest "Certified Barbecue Expert" (CBE) to take consumer grilling questions on the Weber Grill Line (1-800-GRILLOUT): Bushman will field calls on Sunday, September 5 -- the day before the popular Labor Day grilling holiday.
Bushman's grilling class demographics reflect the continuing trend of women flocking to the outdoors to prepare meals. According to the annual Weber GrillWatch Survey, the number of female grillers has jumped about 20 percent during the last five years. In addition, the number of female callers vs. male callers to the Weber Grill Line has flipped: Men used to make up the majority of callers, but within the last three years, the callers have been predominantly female.
The Weber Grill Line, which typically receives more than 50,000 calls during the spring and summer months, is America's only toll-free grilling information hotline. Open from April 1 through Labor Day since its inception in 1992, this year the Weber Grill Line's hours went to 24 hours a day, seven days a week, 364 days a year (closed on Christmas Day). The Grill Line is staffed by a specially trained team of Weber Certified Barbecue Experts (CBEs), who are skilled in providing answers to grilling questions and providing recipe suggestions and meal-planning ideas.
"Jennifer has been conducting Weber grilling classes for years at her culinary center, and the feedback we get is always positive," said Christina Schroeder, Weber Vice President of Marketing. "Everyone appreciates her enthusiasm at the grill and her steadfast position that food should be simple and fun -- which is our credo at Weber."
In a time when sit-down dinner means ordering at the counter instead of the drive-thru, the very idea of whipping up a healthy meal at home is enough to make most of us dive for the minivan keys.
But not if you've encountered Jennifer Bushman, Kitchen Coach and owner of Nothing to It! Culinary Center in Reno, Nevada. Bushman is turbo-charged with her mission to get family cooks out of the takeout line and into the kitchen by showing us how to whip up high-impact meals in 90 seconds flat.
"People forget that cooking can be both simple and fun," she says. "I show them a whole new way to step up their daily food routines and jump back into the kitchen." Bushman's hands-on teaching whisks novice cooks, as well as seasoned-experts, into new kitchen skills.
Bushman's culinary drive sprang from a childhood filled with great home cooks. Her mother and grandmother both encouraged her natural curiosity in the kitchen, and by age eight, she was already showing signs of the innovator she would become by fine-tuning her grandmother's favorite chocolate chip cookie recipe. In later years, after gaining a communications degree at the University of Colorado and with small children at home, she put that fine-tuned cookie recipe to good use by selling small batches of cookies for extra income.
It wasn't long before Bushman's entrepreneurial approach led her from cookie-baker to full-time culinary professional. Spurred by a passion for blending cooking with welcoming people into her kitchen, she honed her culinary skills through intensive self-study, experimentation, and professional education at culinary programs throughout the world, and began sharing what she learned with friends.
By 1995, people were clamoring so hard for her to give them cooking lessons that she opened Nothing To It! Cooking School in her home. Demand for her classes exploded, and one year later, Bushman raised $1.5 million to build the present 6,000 square foot Nothing to It! Culinary Center. The Center opened in 1998, featuring a cooking school, demonstration kitchen, gourmet deli with catering and a kitchen store.
It wasn't long before Reno NBC affiliate KRNV picked up on Bushman's popularity and asked her to do a weekly cooking segment on their morning news program. Bushman's segments became a runaway hit with local Reno viewers.
From there, Bushman turned up the fire even further, making the Nothing To It! Culinary Center home to her Wm Oh's* Television Kitchen. With syndication in five Western States, including Idaho, Montana, Arizona, Wyoming and Nevada, Bushman's gourmet news segments reach small towns where there are few local places where home cooks can learn new skills. Featuring her art of 90-second gourmet recipes, the news segments are essential for an audience that has little time to cook and even less time to learn how to cook.
Since opening the Culinary Center, she has taught more than 1,000 cooking classes and continues to teach more than 500 students each month. Her gourmet news segments have won her nominations for the IACP (International Association of Culinary Professionals) Avocational Cooking School Award of Excellence, the IACP/Julia Child Electronic Media Award and the James Beard Foundation Broadcast Media Award. She also was nominated for the 2002 IACP Cooking Teacher of the Year and was named the Culinary Ambassador for Fine Cooking magazine.
Weber manufactures charcoal and gas grills and accessories.