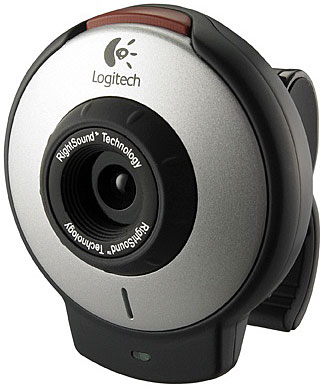 The Logitech QuickCam Deluxe for Notebooks and the Logitech QuickCam for Notebooks offer Logitech's enhanced RightSound Technology with new noise suppression, which helps improve sound quality, and RightLight Technology, which enables crisp, clear image quality even in dim lighting. And the QuickCam Deluxe for Notebooks incorporates a glass lens for improved image clarity. Both webcams work effortlessly with the most popular video messaging applications.
Now in addition to eliminating echo and feedback, Logitech RightSound Technology significantly reduces background noise with included noise suppression. The software identifies the difference between signals from the speaker's voice and background noise, which allows people to enjoy clearer audio.
With its built-in microphone and enhanced RightSound Technology, the Logitech QuickCam for Notebooks enables family and friends to talk clearly from a distance.
These two notebook webcams will be the first to offer a new Logitech software feature: Fun Filters. Logitech Fun Filters create an outline around any object visible in the image, such as the caller's face, chair or office furniture. With the simple click of a button, people can change their image to one of twelve fun filters, giving their image a fish eye, neon light or chalkboard-looking effect.