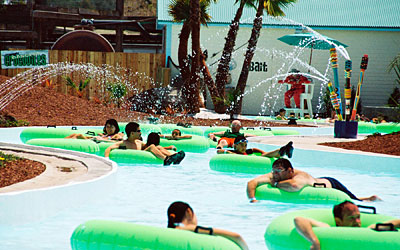 Crocodile Dundee's Boomerang Bay Beach Club, opening May 7, brings the Australian spirit in a bigger and better way in 2005, giving guests an upscale water park experience.
The expanded water park is now three times larger, with the addition of the new Beach Club at Crocodile Dundee's Boomerang Bay, and offers more than 11-acres of family water fun including a new heated lagoon, the area's longest lazy river for tubing, two new water-racing body speed slides, private poolside cabanas and brand new changing facilities for the whole family. With the 2005 additions, Paramount's Great America offers guests a total of thirteen water slides.
Boomerang Lagoon - This 150,000-gallon, zero to three feet deep heated beach lagoon, allows water-lovers to wade in from the water's edge, get showered under mushroom-shaped water statues and spend the entire day splishing, splashing and floating. The beach lagoon is surrounded by more than 200 oversized lounge chairs, offering sun-worshipers a chance to soak up an awesome tan.
Castaway Creek - This 900-foot lazy river is the area's longest and offers buckets of fun as guests climb aboard single-rider inner tubes for a relaxing journey down a winding creek with cascading water spits and spurts along the way.
Ripsnort Ridge - This fully enclosed water tube sends riders speeding down a 45-degree, 30-foot drop for a thrilling water adventure.
The Screamin' Wombat - Twists and serpentine turns await riders on this three-story tall, fully-enclosed body water slide that leaves riders screamin' for more.
Dasani Cabana Village - Luxurious, exclusive poolside cabanas offer guests shade, privacy and relaxation. Each cabana is equipped with a ceiling fan, three bottles of water, and two towels to take home. A personal host will take care of guests' food and beverage orders and pamper guests as they relax in their cabana. A complimentary locker is also included.
Mick's Crocodile Canteen - This brand new Australian-themed restaurant is all the rage this year. The outback shack look and feel of the canteen and outdoor seating, along with Aussie-inspired food favorites such as Gold Coast Chicken Strips, Yamba Fries, Brisbane Hot Dogs and Queensland Pizza give guests the tastes they've wanted.
Brand New Changing Facilities - Centrally located changing facilities and outdoor showers in the heart of Crocodile Dundee's Boomerang Bay Beach Club offer guests a convenient and private spot to put on bathing suits, rinse off and get ready for a water-filled day of fun in the sun. Changing tables for infants are available in the family restrooms and storage lockers are also available in this area.
Dundee's Outback Outfitters - This Australian-themed store offers guests a place to purchase items such as towels, sunscreen and flip flops, to name a few.
"The new Beach Club at Crocodile Dundee's Boomerang Bay is an upscale experience, allowing guests to spend an entire day splashing and swimming in all the water we've added, and it's still free with admission to Paramount's Great America," said Rod Rankin of Paramount's Great America.
For a complete water park experience, families can still enjoy all the exciting water park attractions that opened at Paramount's Great America in 2004.
DownUnder Thunder - The first of its kind in the West, this slide is an unforgettable water adventure. Guests can ride on a two-person tube down a chute, and then glide back up a nearly vertical wall before coasting toward the ground.
Didgeridoo Falls - This family waterslide begins high atop a 54-foot platform and sends riders gliding through turns on a four-to-six person raft.
Tasmanian Typhoon - Tasmanian Typhoon sends riders traveling through a series of watery twists and turns on this fully enclosed two-person inner-tube water slide.
Jackaroo Landing - A complete Australian adventure where kids discover a multi-level water fortress of eight family slides connected by bridges, passageways and rope ladders.
Kookaburra Cay - Little blokes and sheilas (boys and girls) will splish and splash in this spray-ground of fountains and water activities.
Paramount's Great America is owned and operated by Paramount Parks.