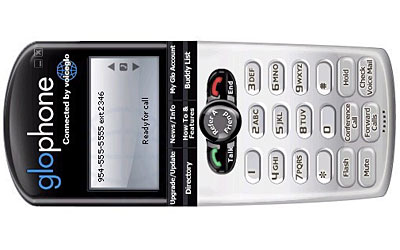 Voiceglo today announced the release of its GloPhone 2, offering users a number of new feature enhancements. GloPhone, a Web and PC based phone service, offers consumers a convenient and affordable way to keep in touch with friends and family throughout the world. Through GloPhone's VoIP technology, users have the freedom to make and receive calls to and from any phone, anywhere in the world using a dial-up or broadband Internet connection.
Using real U.S. telephone numbers, GloPhone 2 integrates the technology's proven reliability, flexibility and superior voice quality with a sleek new handset, exclusive calling features and competitive local, long-distance and international calling plans. With bundled minute packages that start as low as $9.95 a year, GloPhone users now have the flexibility to choose an affordable plan that fits their calling lifestyle and their budget. GloPhone customers also have the freedom to make international calls to any traditional or wireless phone with rates starting at a low 2.9 cents a minute, and can always keep in touch with other GloPhone subscribers with free unlimited peer-to-peer calling.
The new GloPhone 2 also promises a simple, interactive calling experience with the availability of its 25 innovative features. Although the features vary with each calling plan, GloPhone packages include standard calling features, such as caller ID, call waiting, call forwarding, missed call notification voice mail to email and conference calling. Additionally, GloPhone 2 can provide an enhanced calling experience with advanced feature options such as directory assistance, buddy lists, message waiting indicator, and personal contact directory.
For only 75 cents a call, GloPhone users can receive directory assistance for any phone number in the world and then add that contact's information into their Personal Contact Directory for quick future reference. GloPhone customers can also reach out to other GloPhone users with a new direct extension dialing feature. Plus, with the new call messaging option, callers can dial star 99 to be directly routed to the voice mail of the GloPhone user and avoid interrupting another call that the recipient may be on.
GloPhone 2 also provides its users with an exclusive portable telephone solution that cannot be found in any other Internet phone service. With Glo2Go Phone Express, users have the freedom to take their GloPhone with them anywhere they go and access it on any computer anywhere in the world using an Internet connection. While many cell phone users can continue to use their service when they travel internationally, they often find themselves paying outrageous long distance and roaming charges. With the Glo2Go Express, GloPhone customers use the same minutes from the same exact plan that they would use at their home location, and they can continue to make as many long distance and international calls as they would like with the same low rate - which can start at 2.9 cents a minute. GloPhone users also avoid paying roaming charges. Additionally, with Glo2Go Express, friends and family of the GloPhone user save money, too. With more than 185 area codes being offered, GloPhone users can receive a phone number in the area code of their choice so that no matter where they move or travel to, friends and family can always make a local call to connect with them, avoiding long-distance charges.
Along with the new feature enhancements, coming soon is the ability for GloPhone 2 users to change the look of their phone without altering the functionality. Whether they want to portray a sleek cosmopolitan style or show that they are a sports fan, GloPhone 2 users will have the freedom to express their individuality with a large variety of handset "skin" designs, similar to today's customized cell phone covers. From seasonal selections to hot movie covers to even the latest fads on the streets, GloPhone's new skins are tailored to communicate the personalities of consumers that dare to be different in their sense of style.