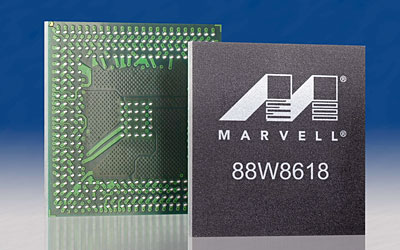 Marvell has announced a family of highly integrated VoIP solutions targeted at the rapidly growing, Internet voice communications market. The Marvell 88W8618 was designed specifically for ultra-low power Voice over WLAN (VoWLAN) handsets with other members of the Marvell 88W86 family targeted at VoIP residential gateways. Each product integrates VoIP processing, low power WiFi circuitry, a high-performance host CPU and peripherals into single system-on-a-chip (SoC) solutions.
These VoWLAN SoC solutions significantly reduce overall system cost for OEMs because of extremely high levels of integration. In addition, Marvell has increased the performance of these offerings for their respective applications. The 88W8618 extends handset talk time by a factor of three versus competitive solutions, and the residential gateway products extend processing capability by integrating a high-performance processor core. All solutions have on-chip security processing engines to support the latest WLAN encryption standards such as AES/CCMP and WPA/TKIP, and a Quality of Service (QoS) engine to support priority voice services. With this level of integration in consumer VoIP devices, the Company is spurring a new class of applications for the home, such as instant messaging service across cordless handsets. And, by allowing voice to integrate seamlessly with data, VoWLAN is available for volume use.
"The Marvell mission is to enable innovative products at consumer price points," said Kishore Manghnani. "Not only is this family of VoWLAN products so highly integrated that it will create a new class of applications for consumer, home use -- it allows the company to take advantage of the explosion in broadband voice services that is about to occur."
"Gartner predicts that by 2009 almost half of all North American households with broadband will use their connections for voice communications," said Margaret Schoener of Gartner.
"By introducing these highly integrated VOIP products today, vendors in this market segment are positioning themselves firmly to deploy these chips broadly into cutting edge devices that will revolutionize the digital home experience."
Marvell's VoWLAN solutions provide advanced features which ensure robust voice and WLAN capabilities for the home. These advanced total system power management features extend handset standby and talk time in WiFi environments by using techniques already proven in Marvell based dual-mode cellular WiFi handset products. In addition, Marvell has integrated an ARM compliant processor core to improve performance and provide extra processing speed for additional applications.
This family of VoIP products also offers AutoLink, a quick, simple, one- click solution for setting up, configuring and enabling a secure WPA or WPA2 wireless network. Once connected, users can enjoy the expanded freedom offered by Marvell BoostMode technology, which increases throughput and allows up to twice the range of current 802.11g solutions. Marvell VoWLAN solutions will also support advanced features for enhanced QoS such as WMM, APSD, as well as other 802.11e specifications. All these solutions allow Marvell VoWLAN products to offer robust, easy to use WLAN voice and data connectivity.
Marvell VoWLAN reference design kits, featuring 88W86 family with a complete VoWLAN software package, are currently sampling to key customers and broadband service providers.
Marvell develops storage, communications, and consumer silicon solutions, including switching, transceiver, communications controller, wireless, and storage solutions that power the communications infrastructure.