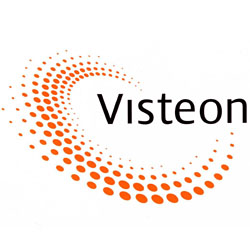 Visteon Corporation has applied its experience, innovation and consumer research to deliver a variety of distinctive features that help differentiate several customers' new 2004 and 2005 models showcased at the Chicago Auto Show.
The challenge was to understand each automaker's design intent and brand image for each vehicle, then deliver innovative technology quickly. Visteon is uniquely positioned to deliver fast and flexibly on innovations that help a vehicle stand out from the crowd.
Visteon's products on these new models appeal to three of the five human senses: sight, sound and touch. The senses are reached through products from branded audio systems to instrument panels, driver information centers and exterior lighting.
The sense of sound - through innovation
When it comes to automotive audio systems, Visteon is an innovator with the capability to quickly bring premium-branded audio systems and advanced digital audio to market. In less than 24 months, Visteon and its partner, Boston Acoustics worked with Chrysler to combine Boston's audiophile speakers and acoustical know-how with Visteon's electronic, digital signal processing technology and in-car expertise to bring the "Boston Sound" to the Chrysler 300 and the Dodge Magnum in North America, both on display at the Chicago Auto Show. This premium audio system will be available on both vehicles later in 2004.
Visteon's digital audio innovations lead the way in finding new ways to deliver technology to automakers and consumers more quickly. While the auto industry wrestled with the issue of providing standardized hardware for competing satellite radio providers, Visteon developed the capability of providing a single module that works with both XM and SIRIUS Satellite radio. Today, Visteon supplies a SIRIUS Satellite radio system to Ford Motor Co. and will provide both XM and SIRIUS Satellite receivers to Nissan Motor Co. for future-model vehicles.
In addition, this year Visteon will become the first and only supplier of an integrated, factory-installed voice-activated Bluetooth wireless phone system in automotive production for use in both North America and Europe. Today, Visteon supplies the Bluetooth Wireless Interface Module in Europe for the BMW 3 and 5 Series. In 2004 BMW will offer this capability in North America on the new X3, which is showcased at the Chicago Auto Show, and the X5.
Sense of sight and touch - through style
Style, inside and out, is what draws a consumer to a vehicle. The all-new 2005 Ford Mustang's modern interior features a Visteon-produced symmetrical instrument panel to deliver the precision, craftsmanship and practicality the consumer demands. The door panels and inserts accentuate Mustang's new interior.
Visteon also engineered the instrument panel of the upcoming 2005 Ford Five Hundred and Ford Freestyle. The Five Hundred's interior styling builds on the same theme, with inviting materials and surface treatments -- from smooth metal door handles to soft-touch paint finishes and high-quality fabrics or leather surfaces. The Freestyle's interior features an impressive new level of craftsmanship -- consistent with increased attention to detail -- in interior design across Ford's car lines. In both models, optimum locations were designed for door handles, armrests, seat and window regulators, cup holders and other frequently used items and controls.
Visteon also demonstrates its expertise through the integrated cockpit module it is supplying on the 2005 Nissan Frontier. Visteon also supplies the heating, ventilation and air conditioning system and controls and the instrument cluster, along with the center console.
Corvette lighting improves driver visibility
The all-new Chevrolet Corvette delivers improved visibility with Visteon's High Intensity Discharge (HID) Projector headlamps. These unique lights provide power and precision advantages that are certain to impress drivers of this classic performance vehicle. As its name implies, HID provides a very high intensity light produced from an electric arc inside a capsule filled with xenon gas. The arc produces significantly more light than a glowing filament found in halogen lighting.
Sight, sound and touch are the senses that help consumers define what driving should be, and Visteon continues to deliver the innovations that make a difference for each customer.
Visteon delivers consumer-driven technology solutions to automotive manufacturers worldwide and through multiple channels within the global automotive aftermarket.