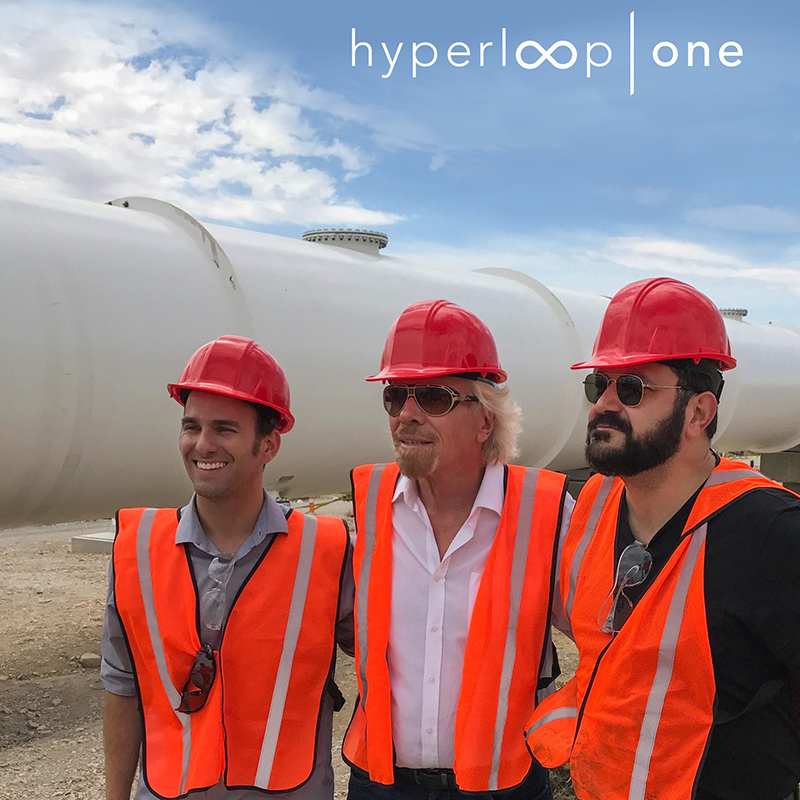 A hyperloop is a proposed mode of passenger and freight transportation, first named as such in an open-source vactrain design released by a joint team from Tesla and SpaceX. Drawing heavily from Robert Goddard's vactrain, a hyperloop comprises a sealed tube or system of tubes through which a pod may travel free of air resistance or friction conveying people or objects at optimal speed and acceleration. Elon Musk's version of the concept, first publicly mentioned in 2012, incorporates reduced-pressure tubes in which pressurized capsules ride on air bearings driven by linear induction motors and air compressors.
Announced October 12, 2017, the Virgin Group has invested in Hyperloop One to form a global strategic partnership. With this partnership, Richard Branson joined the board of directors and Hyperloop One will rebrand itself as Virgin Hyperloop One in the coming months.
"After visiting Hyperloop One's test site in Nevada and meeting its leadership team this past summer, I am convinced this groundbreaking technology will change transportation as we know it and dramatically cut journey times," said Richard Branson, founder of the Virgin Group. "Virgin has been known for investing in and creating innovative companies over the years, and I look forward to making history together as we bring Hyperloop to the world as Virgin Hyperloop One."
The global strategic partnership will focus on passenger and mixed-use cargo service in addition to the creation of a new passenger division. Depending on the market, other brands could be used globally as well. Following the successful test at its Nevada test track DevLoop this past summer, Hyperloop One continues to see a growing demand from governments and the private sector around the world with projects underway in the UAE, U.S., Canada, Finland, the Netherlands and India.
With Hyperloop One, passengers and cargo are loaded into a pod, and accelerate gradually via electric propulsion through a low-pressure tube. The pod quickly lifts above the track using magnetic levitation and glides at airline speeds for long distances due to ultra-low aerodynamic drag. Hyperloop One's radically efficient and clean, all-electric technology is aligned with the Virgin Group's purpose-driven mission to deliver more sustainable modes of transportation.