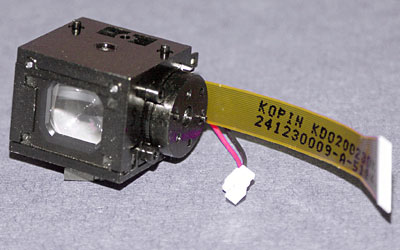 Kopin has created the world's first complete electronic viewfinder (EVF) for digital cameras. Kopin designed the CyberEVF 230K in collaboration with a tier-one digital camera OEM with the goal of making it the standard EVF for the new generation of high-zoom, high-resolution, extra-slim cameras.
Kopin's new product incorporates in a single module all the EVF components an OEM requires: a full-color microdisplay with QVGA resolution, ultra-thin backlight, optics, and housing with an easy-to-use focusing mechanism. This complete EVF solution will enable digital camera manufacturers to shorten the design time for new products and substantially reduce the assembly cost. The component is 2/3 the depth and less than half the volume of the competing EVF modules, enables digital camera OEMs to shrink their cameras to a pocket-size form factor, a key attraction for consumers.
"Until now, an EVF system with all the necessary components was unavailable to digital camera manufacturers who previously had to design and assemble their own EVF system one component at a time," said Kopin's Dr. John C.C. Fan. "Our complete viewfinder solution, delivering exceptional image quality in a tiny package, enables OEMs to quickly introduce slim, high-zoom digital cameras that can be differentiated from camera phones. We anticipate that the volume production of CyberEVF 230K for the tier-one OEM will start in the next few months."
The electronic viewfinder stands out for its image quality and low power consumption thanks to its use of Kopin's CyberDisplay 230K LV, which features Kopin's proprietary color-filter technology and patent-pending low-voltage architecture. With 15x image magnification and 23-degree field of view, the viewfinder generates large, high-resolution (320x240), vivid color images with virtually no distortion or color aberrations. Even in bright daylight, the CyberEVF 230K provides a crisp, clear image, which is crucial for fine focusing. The low-voltage architecture addresses consumers' needs for a long battery life by enabling the EVF to consume less than 100 mW of power including the driver IC. The CyberEVF 230K also eliminates parallax - the image shift in the picture from the one viewed through a viewfinder, which is a serious drawback of optical viewfinders for high-zoom digital cameras.
To ease integration, the viewfinder incorporates a unique piggy-back system that allows OEMs to easily customize the focusing mechanism based upon their unique requirements. This customization design approach allows manufacturers to smooth out seasonal market fluctuations, resulting in increased product quality and a more stabilized production yield.
Available immediately to all digital camera manufacturers, Kopin offers samples, reference designs and full technical support, buttressing customers' ability to quickly move their CyberDisplay-equipped products to market.
Kopin produces digital imaging and telecommunications technologies that enhance the delivery and presentation of video, voice, and data.