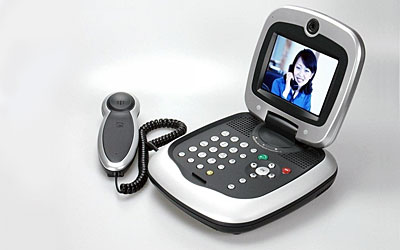 Trolltech's Qtopia software for Linux-based embedded products is the application development platform for Leadtek's IP broadband videophone.
The H.264-based Videophone XTP8830 uses H.323/SIP protocol and offers high performance with good quality video communication. This product is capable of supporting today's demanding requirements in triple play technologies, including video telephony, streaming, VoIP and online browsing. It can be adapted to all IP-based networks such as LANs, WANs and Internet. From homes to offices, wherever there's an Ethernet line, XTP 8830 facilitates meetings face-to-face anytime, from anywhere in the world. Qtopia's customizable platform enabled the efficient integration of all these features, as well as providing an intuitive and easy-to-learn interface.
Leadtek H.264-based Videophone XTP8830 was recently honored with the CES 2006 Innovations Design and Engineering Award.
"Leadtek is the first company, together with their partner, France Telecom, to make cost-effective video telephony available to residential users," said Adam Lawson of Trolltech. "Qtopia gives Leadtek a proven technology for developing customized, innovative applications and user interfaces for their line of videophone products."
"Qtopia is a complete application platform and user interface that enhances Linux and makes it complete," said Hon Sit of Leadtek. "With Qtopia, we were able to develop this feature-rich IP videophone faster and more efficiently -- while providing our customers a comprehensive and user-friendly interface."
Leadtek designs and manufactures 3D graphics, multimedia, PCTV, GPS, Bluetooth, videophones, and IP set-top boxes.
Trolltech combines the advantages of Linux with the freedom to innovate across platforms.