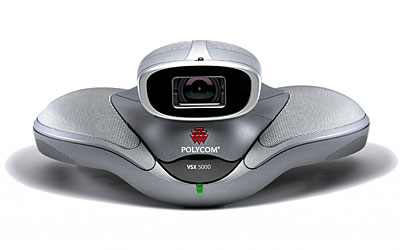 Polycom VSX 5000 received a 2006 Well Connected Award from the editors of Network Computing Magazine. The awards, which honor the year's outstanding technology products and services, are featured in the April 27, 2006 issue of Network Computing Magazine.
"2005 was a significant year for Polycom video conferencing products with the introduction of new solutions like the VSX 5000, which delivers unparalleled performance in an entry-level solution. These solutions also extend the integration of Polycom video communications with leading IP telephony and presence-based communications environments from Alcatel, Avaya, IBM, Lucent Technologies, Microsoft, and Nortel" said Polycom's Ed Ellett
Polycom VSX 5000 is a breakthrough solution for small conference rooms and meeting spaces that delivers premium quality audio and video performance coupled with basic video conferencing functionality. The system includes a new electronic pan-tilt-zoom (PTZ) camera featuring high reliability with few moving parts and most of the functionality of mechanical PTZ cameras. The VSX 5000 is a dual mode (IP/ISDN) system, with support for dual displays, as well as advanced data sharing capability. The VSX 5000 connects to any XGA or TV display for system flexibility. System pricing starts at $3,999.