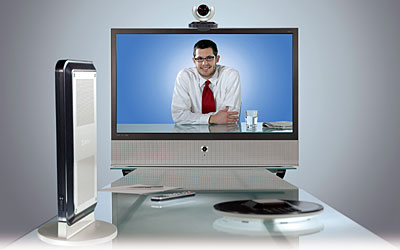 LifeSize is shipping its LifeSize Room high definition video communications system, designed to provide nearly ten times the quality of existing solutions.
"What LifeSize has achieved by delivering the industry's first high definition video product truly represents a significant advancement for the videoconferencing market," said Andrew W. Davis of Wainhouse Research.
Users of the system will experience high definition resolution at 1Mbps, DVD quality at 512kbps and Cable TV quality at 384kbps. The product allows anyone with dispersed colleagues and operations to collaborate more clearly and effectively. Unlike specialized, costly telepresence suites, LifeSize Room can turn any space into a high definition video communications environment at a price comparable to traditional, low-resolution video conferencing systems.
"We have spent countless hours and other resources to achieve this goal, and now, with the support of our partners in over twenty countries, we look forward to start changing the future of video communications" said Craig Malloy of LifeSize.
High definition video provides nearly ten times the video quality of existing videoconference systems. The high definition audio is super wideband audio up to 22 kHz. The fully integrated system includes high definition codec, PTZ camera and audio conferencing phone, as well as wireless remote control. The product provides support for H.264 and H.263 video standards. Multimedia sharing of PC content is conducted via H.239. The easy-to-use intuitive interface has an integrated directory.