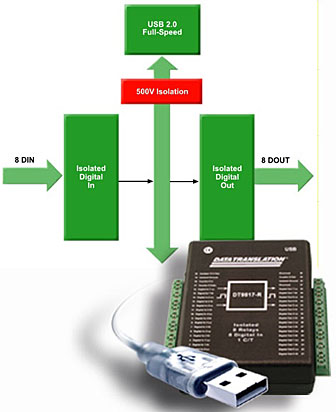 The DT9817-R data acquisition digital I/O relay output module for USB 2 from Data Translation is a new isolated module that provides high drive, high current digital I/O capability.
"The DT9817-R, the latest addition to the award winning ECONseries was designed for users seeking a portable yet robust solution for driving solid state or mechanical relays" said CEO Fred Molinari. "Users in the harshest of environments can now take advantage of the ease of use of USB and still be assured of the highest reliability."
The DT9817-R provides up to 500V channel to channel isolation on 8 digital input lines with an input voltage range of +/-3V to +/-32V and 8 digital output lines capable of switching up to 30V @400mA.
The DT9817-R input lines can be used in applications for proximity and limit switches, photoelectric switches, and TTL and pushbutton devices. The outputs can be used for switching AC and DC loads such as relays, electric motor controls, solenoids, and indicator lamps.
The 32-bit counter timer can be run by an internal or external clock. This subsystem supports event counting, frequency measurement, edge-to-edge measurement, and rate generation.
The module ships with a measurement solution application, extensive software tools, and a test and measurement application builder.