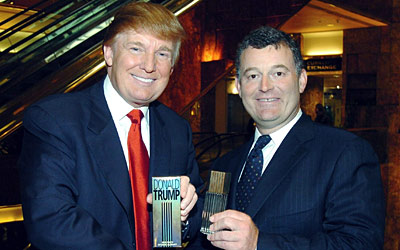 Aramis is developing a new men's cologne called Donald Trump, The Fragrance.
"We are excited to work with Mr. Trump, whose commitment to excellence and desire for perfection is unparalleled," said Estee Lauder president William P. Lauder (pictured above). "Mr. Trump's extraordinary presence makes people take notice and ensures quality in all that he creates. We feel that Mr. Trump and Aramis are a winning combination of two global brands."
Mr. Trump is the very definition of the American success story. His fame grew with his fortune and now Donald Trump has become a mega lifestyle brand. From his real estate and hotel empires to the hottest reality television show of the moment, Donald Trump has found the secret to success.
"We are confident that men of all ages want to experience some part of Mr. Trump's passion and taste for luxury. His life is inspirational. People want to know him on every level. Now, with Donald Trump, The Fragrance, it can be an attainable reality," said Aramis president Fabrice Weber.
"You'll never be successful if you sell a product you don't like and you don't believe in," stated Donald Trump. "My new partnership with Aramis and Designer Fragrances is huge. They are leaders in the industry. Donald Trump, The Fragrance, will be the best men's scent available and the must-have gift for the holidays."
Donald Trump The Fragrance will be available in a 3.4 oz bottle for $60 in November.