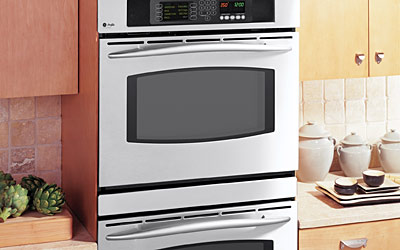 This holiday, many families will sit down to a moist, and golden, 22-pound roasted turkey in just two hours, thanks to the new GE Profile ovens with Trivection technology. A traditional oven cooks a cheesy, dense lasagna in one hour using only thermal energy. Now families can enjoy the same lasagna - or better - in just 15 minutes when baked with Trivection technology.
For holiday or any day, GE offers a better way to cook favorite family recipes in a full-size oven. These versatile ovens combine thermal, convection, and microwave energies with delicious results. The GE Profile ovens deliver excellent performance customized for any type of food.
The easy-to-use Chef's Guide controls automatically convert consumers' traditional recipes. They simply enter food type, time, and temperature. Once the oven is set, it automatically applies the right combination of energies to optimize cooking performance, delivering delicious results with every dish. It balances three energies to maximize cooking performance.
Testing shows speed modes allow foods to cook up to five times faster; speed roast a turkey in half the time, speed bake breads in a third of the time, and casseroles in a quarter of the time. Potatoes speed cook five times faster than in a traditional oven. "But cooking foods quickly was not our only goal," explained Leanne Dugan, general manager for GE Cooking Products. "We developed this oven to use the optimal combination of the best of three cooking methods in an effort to produce the best possible food," she continued.
In addition to this unique combination of cooking technologies, these ovens also offer traditional cooking methods: baking, broiling, roasting, and true European convection called PreciseAir. Additional modes include defrost, warm, proof, self-clean, and help. The full-size oven can accommodate everything from a large turkey to multiple trays of cookies. Consumers can use the same cookware as in their traditional ovens.
The GE Profile ovens with Trivection technology are available in a single wall oven, double wall oven or slide-in range. These ovens are an ideal choice for upgrading existing kitchens because no unique cutout dimensions or electrical supply requirements are needed. These beautiful GE Profile appliances offer a sophisticated appearance with bold curves and clean lines to make a dramatic statement.
GE Consumer and Industrial provides major appliance, lighting, and integrated industrial equipment.