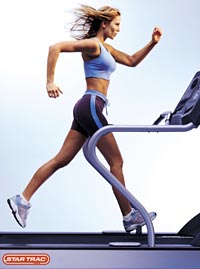 The exercise cool down period used to come at the end of your treadmill workout. But not any more. At this week's IHRSA show in Phoenix, Star Trac, an international leader in commercial quality fitness equipment will unveil the latest addition to its storied family of treadmills -- the first treadmill with user-controlled cooling fans fully integrated into the console.
But the two personal fans are not the only exciting features on the new Star Trac Pro. A sleek new design with sweeping curves gives both the Star Trac Pro and the Star Trac Pro S an aesthetically appealing, approachable, and comfortable look which is functionally sturdier than most treadmills in fitness clubs and homes today. The Star Trac Pro model includes an innovative new display with a self-guided intuitive interface and -- for the first time ever in a treadmill -- scales to track the user's weight.
"We believe the Star Trac Pro is in a category by itself. It builds on the breakthrough technology we incorporated into our best-selling TR4500 treadmill, has all of the high quality elements our customers have grown to expect from Star Trac, and adds many new comfort features and embellishments never before available on any cardiovascular equipment," says Star Trac President, James McPartland. "Our commitment is to create fitness equipment that ultimately meets the needs and desires of the end user, and enhances exercise into a habit-forming experience."
The distinctive new Star Trac Pro and Pro S with curved arm supports, console post and rounded console, have been created with the consultation of DesignworksUSA, a BMW Group Company, and input from individual users, club owners, personal trainers and fitness directors. The Star Trac Pro offers the stability and durability of all Star Trac treadmills, and includes the proprietary SoftTrac running system augmented with three cells of cushioning instead of two, allowing for more comfort and continued durability. A new feature of both treadmills is Star Trac's Aero Bar, a handle on the rounded cusp of the console, designed to make it easy for users to grasp -- a location that many people already grip for stability, especially when climbing.
Designed to be inviting and approachable, the Star Trac Pro features the IntelliTrac intuitive animated display. An enhancement on the typical dot matrix display, the interface is self-guided and prevents information overload by only showing the user appropriate keys for that specific instant during the workout. For ease, the user may also choose one of the automated Workout Partner selections -- Athletic Partner, Climbing Partner or Weight Management Partner. The Star Trac Pro also includes the popular Personal Training Studio option, which enables 50 personal trainers to design and save their own custom "signature" treadmill exercise programs on each machine.
The heart rate monitoring system for the Star Trac Pro and Pro S has also been improved with the new iPulse heart rate system, a dedicated heart rate window that requires no scrolling while an interactive flashing heart provides visual confirmation of pulse detection. An interactive heart rate chart enables the user to more easily see how he or she is progressing during the workout.
The re-designed Star Trac Pro and Pro S displays retain the user functionality of the Star Trac Sport Utility Display including built-in holders for water bottles, a personal stereo/CD player and reading material.
Two personal three-inch sized fans are incorporated on each side of the display of the Star Trac Pro. Users can adjust the fan to off, low and high setting according to their own comfort. An automatic shut-off results when the treadmill is powered down.
Another example of the Star Trac Pro enhancing the exercise experience is evidenced by diamond-plate footpads located on each side rail of the Star Trac Pro which enables users to monitor their weight if they so choose. Users are not required to use the scales to start their treadmill workout, but also have the option to weigh themselves without activating the treadmill. Acquiring the exact weight of the user enables the Star Trac Pro to more accurately produce a caloric expenditure readout.
The Star Trac Pro and Pro S operate at speeds from 0.5 - 10 mph on 110 volts and 0.5 to 12 mph on 220 volts. Both models include the popular "soft start at zero" which engages the treadmill belt slowly for a safe start every time. The elevation range is 0 - 15% and has a load-sensing auto shut-off feature. Two separate stop buttons are highly visible in key areas.
Both treadmills are equipped with Star Trac's SoftTrac system, an advancement on the patented Impact Absorption System, and a powerful 2.5-horsepower DC motor. The Pro treadmill also features Star Trac's Dynamic Heart Rate Control program, which keeps a user's heart rate at a user-specified training range, thus creating an interval training effect for optimum heart rate training.
New shroud designs on both treadmills provide easy access for maintenance, as well as early detection warning systems for common wear items in heavy-use facilities. In addition, the Pro and Pro S treadmills feature a maintenance diagnostic mode that allows facility management to track hours, miles and specific programs used on each piece of equipment.
Beyond the new trademarks IntelliTrac, SoftTrac, iPulse and Workout Partner, the Star Trac Pro and Pro S treadmills were also engineered with a number of patent pending technology features.
Best known for its leading treadmills, Star Trac offers a complete line of high-quality fitness equipment including the new Pro Treadmill, elliptical trainers, bikes, stair climbers and the revolutionary new strength-training machine, Thruster. The company also offers Trekking, the total treadmill workout, and is partnered with Mad Dogg Athletics as the manufacturer for the Johnny G. Spinner bike for indoor group cycling. Every day, more than 2 million people in over 65 countries use Star Trac exercise equipment in fitness facilities and at home.