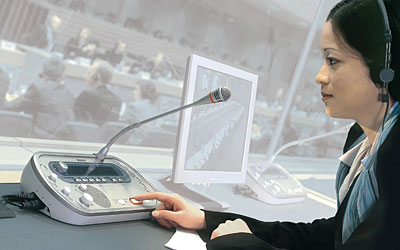 The Bosch Digital Congress Network (DCN) system from Listen Technologies has been chosen by America Translating Services to provide real-time language interpretation for international conferences. The system is equipped to handle 32 languages simultaneously and will be part of America Translating's conferencing package, which includes on-site interpreters in every language. The system will also be part of America Translating's rental inventory.
The system America Translating designed is the first of its kind in the USA. Their solution includes 54 interpreter desks and seven audio expanders, which extract the interpretations for transmission to FM receivers. The interpreter desks were designed with input from the International Association of Conference Interpreters.
Mike Devlin of America Translating said, "The Bosch system seems to be built for this century. It offers more simplicity, less manpower and more reliability than our previous system. Plus the interpreters really enjoy the Bosch equipment." He added that a feature-to-feature comparisons of the Bosch system to others on the market, showed the Bosch DCN as the system most able to take advantage of today's leading-edge technology.
Purchased to serve the immediate needs of a client seeking to simultaneously interpret thirty languages, America Translating found that Bosch's DCN system was the only one capable of handling the interpretation load in an efficient, seamless manner.
"We are thrilled to participate in such a pioneering project," said Cory Schaeffer of Listen. "America Translating's stellar reputation and broad translating capabilities make them an excellent rental partner for Listen. It's a terrific match."
Listen Technologies Corporation manufactures and distributes wireless audio products used in auditory assistance, soundfield, tour group, language interpretation and conferencing applications.