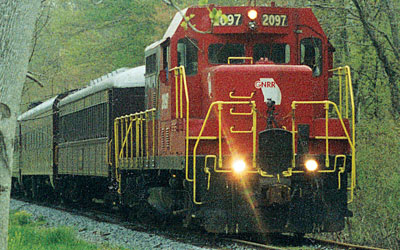 The Blue Ridge Scenic Railway is in its eighth season. The 26 mile round trip winds along the beautiful Toccoa River on vintage climate controlled or open air rail cars. The relaxing ride starts at the charming and historic depot in downtown Blue Ridg.

The train stops for a layover in the sister towns of McCaysville, Georgia and Copperhill, Tennessee where visitors will have plenty of time to take a stroll in the fresh mountain air, shop for unique crafts and antiques, snack on ice cream or eat lunch while overlooking the river.
"This is a relaxing, old-fashioned train ride along the Toccoa River, through the Blue Ridge Mountains of Georgia," said Wilds Pierce of the Blue Ridge Scenic Railway. "The scenery is especially beautiful in March and April and the kids enjoy taking their first train ride during Spring Break."
Visitors to Blue Ridge can kick off Spring Break on April 2nd during Cabin Fever Getaway Weekend where they can take a train ride at dusk to the Copperhill Basin and listen to live music, shop late, and taste authentic southern cuisine.
Special half price Monday coupons are available online, where you can also order tickets.