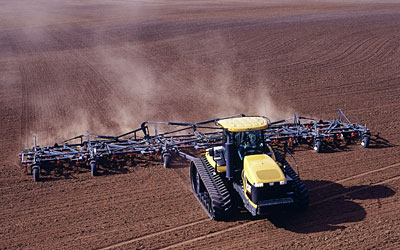 With new engines and a broader range of models, the new Challenger MT800B Series has once again extended productivity and performance in the high-horsepower tractor category. All five models in the series, including a new MT875B model, rated at 570 gross engine horsepower, feature upgraded engines, higher horsepower, and advanced technology.
"Each one of the MT800B Series tractors features an additional 10 to 20 horsepower, compared to its predecessor," says Tim Miller of Challenger track tractors. "However, the new MT875B not only expands the line-up, but takes gross engine horsepower to a new level among modern-day production tractors. Of course, like all the other models in the MT800B Series, the MT875B will be available in both agricultural and special application versions to handle the needs of large-acreage farmers, as well as industrial and scraper operators."
Much of the horsepower boost, Miller explains, can be attributed to new Caterpillar ACERT engines, which advance technology to Tier III compliance without sacrificing performance, durability or reliability.
The two largest models in the series boast a massive 1,105-cubic-inch Cat C18 ACERT diesel engine that cranks out 510 horsepower in the MT865B and 570 horsepower in the MT875B. That's the largest engine and the highest horsepower level in any production tractor in North America - track or wheel.
In addition to turbocharging, air-to-air aftercooling and 4-valve-per-cylinder technology, both engines also feature a new ADEM 4 electronics control system that enables smooth power delivery by coordinating communication between all tractor electronic control modules. Additional benefits, compared to the previous ADEM 3 system, include the ability to maintain power, even with changing fuel temperatures, improved response and reduced noise levels.
Customers who operate on compacted and unbroken soils, like those encountered in a scraper application, will also appreciate a new special application belt option. The new belts have tread bars that are a total of 2.5 inches for less flexing and irregular wear, and the belts are thicker, due to two additional layers of rubber on the inner belt surface to reduce debris damage.
Customers will appreciate a number of cab improvements on the MT800B Series, including a noticeable sound level reduction, a FOPS (falling object protective structure) built into the cab roof, and a new semi-active operator's seat that allows for continuous real-time automatic damping force in any one of three positions, based on terrain inputs.
AGCO manufactures and distributes agricultural equipment and related replacement parts.