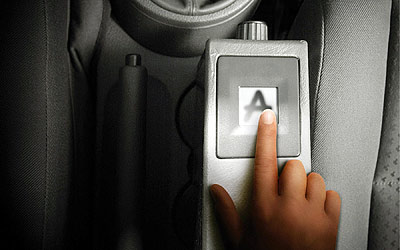 Touch sensor technology from TRW may transform human-machine interfaces for control systems. The company is working with two major vehicle manufacturers to bring the technology to market in 2007.
The technology uses a control surface, much like that of a laptop computer, in place of mechanical switches. The technology replaces traditional mechanical control functions from simple on and off switches, through larger input devices such as heating, ventilation, and air conditioning.
Also developed is a multifunction control module for interface with driver information and communication systems. A key feature is the capability for handwriting recognition, which enables fast and intuitive operation of mobile phones and navigation systems.
Ernst Hafner of TRW explained: "TRW touch sensor technology has significant advantages for the driver. We can group many functions together, and our research has demonstrated that it offers significant ergonomic and packaging improvements.
"In particular, independent tests have demonstrated that the handwriting recognition touch sensor offers reduced driver distraction and improved control and character input speed compared with the driver interfacing directly with a mobile telephone or navigation system. The technology recognizes hand written numbers, letters and symbols. The user writes individual characters with a single finger on the touch sensor area which is recognized by software and can be acknowledged by audible feedback -- enabling complex input without requiring the driver's eyes to leave the road ahead."
Applications for the new technology include controls for doors and mirrors, air outlet functions, and steering wheel functions. It offers new possibilities for interior design and materials and 3D integration with styled vehicle surfaces.
TRW is developing both the simple and multi level control and handwriting concepts for launch in 2007.