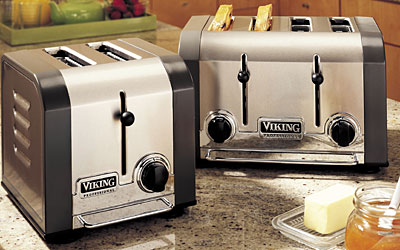 The Viking Professional toaster is designed to resemble existing Viking major appliances and culinary products. It is crafted from stainless steel to retain the professional look that is Viking. A large, easy to turn control knob with multiple time settings is designed for ease of use. The toaster's smooth rounded surfaces and edges are designed for easy cleaning -- no sharp edges and crevices are apparent on the toaster which could attract kitchen grime. The Viking toaster is also well insulated to keep heat internal, making its exterior virtually cool to the touch.
"Viking is committed to expanding its countertop electrics line-up of culinary products," said Dave Becker of Viking. "The two- and four-slice toaster models join the family of Viking culinary products which includes the Viking Professional stand mixer, blender, food processor, cookware and cutlery."
Agency certified for home use, the Viking toaster is available in two- and four- slice models. Its wide slots adjust to fit bagels and other larger items such as breakfast pastries. Hydraulic engaging and lifting levers provide a pop up mechanism and an extra lift for removing smaller items. The convenient, stainless steel pull out tray is easily removable for clean up and disposal of crumbs.
The Viking Professional toaster is designed to perform well and look beautiful on any counter top. It comes in an array of exclusive Viking finishes that will complement any decor -- white, black, stainless gray, graphite gray, cobalt blue and bright red.
Viking provides ultra-premium commercial-type appliances for the indoor and outdoor kitchen.