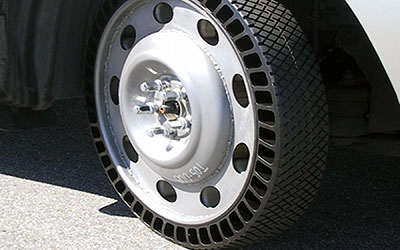 Amerityre's no-air passenger car tire had passed standards testing. The non-pneumatic tire, made from a proprietary polyurethane elastomer compound, has been developed by Amerityre for prospective use as a temporary/spare tire for compact to mid-size vehicles.
"This is a major breakthrough in tire technology," said Richard Steinke of Amerityre. "Over the past several years, a lot of companies have attempted to make a non-pneumatic tire for passenger vehicles. Those attempts fell short, in large part, because they didn't have the compounds to do it. To the best of our knowledge, we are the first company to have a tire that completely meets the standard," he added.
Amerityre has focused its development of the no-air tire technology initially on spare tires for small and mid-size vehicles (tires that carry a load up to 1,250 lbs) because those tires comprise a significant portion of the temporary/spare marketplace. For 2005, small and mid-size passenger car production worldwide is estimated to be approximately 20 million units, with a corresponding number of temporary/spare tires required.
With the successful testing achieved, Amerityre intends to initiate discussions with the automobile manufacturers about making the product available to their customers as an original equipment temporary/spare tire. In addition, Amerityre will continue testing prototype designs of the temporary/spare tire for full-size vehicles, light truck and SUV applications.
Amerityre believes the newly developed tires will provide consumers with a more reliable temporary/spare tire. "Drivers won't need to worry about losing air pressure in these tires. They will always be ready in the event of a flat tire," said Steinke.