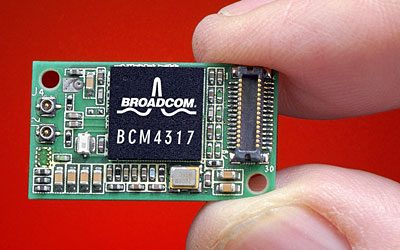 Broadcom Corporation today announced that it is shipping the world's first single-chip WiFi solution, the Broadcom BCM4317. Broadcom's new wireless LAN solutions are the size of a postage stamp and consume up to 97 percent less power than other Wi-Fi solutions on the market. The unprecedented size and efficiency of the one-chip offering make Wi-Fi connectivity practical for the first time for a wide range of pocketsize electronic devices, including PDAs, cell phones, digital cameras, MP3 players and other portable devices.
Integration, Size Enable New Generation of Wireless Devices Broadcom was the first vendor to deliver all-CMOS wireless LAN and Bluetooth solutions, and has now leveraged that expertise to produce the first single-chip, all-CMOS wireless LAN transceiver. While competing products require multiple chips and many discrete components, Broadcom's single-chip solution integrates a 2.4 GHz radio, power amplifier, IEEE 802.11b baseband processor, medium access controller (MAC), Tx/Rx and diversity switches and all other radio components onto a single silicon die. This unprecedented level of chip integration eliminates more than 100 discrete components and makes the one-chip module 87 percent smaller than traditional mini-PCI WiFi solutions.
Broadcom's onechip solution also offers a comprehensive power management scheme to extend the battery life of small mobile devices. This power management approach consumes an average of 70-97% less power than existing solutions and leverages the benefits of extreme integration, innovative hardware design and Broadcom's new SuperStandby software. SuperStandby wakes the minimum amount of circuitry for the shortest possible period of time, allowing the one-chip module to consume up to 97 percent less power than the Intel Centrino wireless LAN solution in standby mode1. Pocket-sized mobile devices spend a majority of their time in standby mode, and the power savings offered by the chip solution can add several days of battery life to a Wi-Fi- enabled PDA.
Broadcom's chip design is the industry's most cost effective architecture for Wi-Fi chipsets. To facilitate the adoption of the single-chip solution in new wireless-enabled devices, Broadcom is sampling three reference designs that lower wireless LAN implementation costs and accelerate time-to-market for manufacturers. These designs simplify the building of cost effective modules by drastically reducing the number of off-chip components and allowing concurrent RF and silicon testing. The module's small size and Broadcom's software toolkit allow mobile device vendors to more efficiently integrate wireless networking into their products.
In addition to the unique benefits afforded by a single-chip solution, the solution leverages Broadcom's CMOS hardware expertise and proven OneDriver software to deliver the superior performance, range and security features of its industry-leading wireless LAN chipsets. The OneDriver software includes all of the elements required for submission to Wi-Fi labs for certification testing, provides maximum stability and flexibility across Broadcom's entire line of wireless LAN products, and enables a comprehensive portfolio of features.