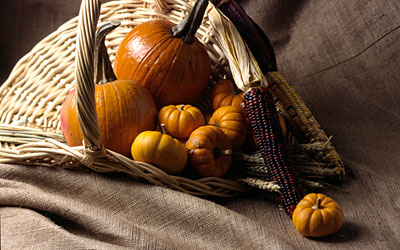 With Thanksgiving just around the corner, here are some tips from the American Chemical Society, the world's largest scientific society, on the some of the science behind holiday foods:
New study ranks cranberry number one in antioxidants -- An antioxidant comparison of some of the most common fruits found that the little red berry -- in its pure form -- contained the highest quantity of disease-fighting phenols, a type of antioxidant that is thought to reduce the risk of chronic diseases such as cancer, stroke and heart disease. The study represents the most comprehensive investigation to date of the quantity and quality of antioxidants in fruits, says lead researcher Joe Vinson, Ph.D., a chemist with the University of Scranton in Scranton, Penn. The study is scheduled to appear in the November 19 print issue of the Journal of Agricultural and Food Chemistry.
Browner turkeys -- The golden brown color and roasted flavor of a turkey are from sugars and proteins reacting together, according to Sara Risch, an expert in food science and principal of the Chicago-based firm Science by Design. A turkey browns faster when its surface is exposed to dry air. To reduce the amount of browning, limit the amount of sugar and protein -- or cover food with foil, which slows down the rate of browning by keeping the air moist. This is one of the reasons that products cooked in the microwave don't brown -- they aren't surrounded by dry hot air that is needed to hasten the browning reaction.
Perfect pies -- Consider filling your holiday pies with fresh berries, which can significantly reduce the buildup of LDL (low-density lipoprotein) cholesterol, a culprit that contributes to heart disease, stroke and atherosclerosis, a form of arteriosclerosis. According to research published in the Journal of Agricultural and Food Chemistry, blackberries have the highest LDL inhibitory effect, followed by red raspberries, sweet cherries, blueberries and strawberries. To keep pie crusts from getting too brown, cut the sugar in half, reduce the amount of dairy products, and substitute lower-protein cake flour for some of the regular flour.
White wine with health benefits similar to red -- Researchers in Israel say they have developed a method to boost the antioxidant content of white wine so that it has health benefits similar to red wine, considered the healthiest of all wines due to its reputed ability to fight heart disease. Their finding appeared in the July 16 print issue of the Journal of Agricultural and Food Chemistry. At least one wine manufacturer in Israel (Binyamina Winecellars and Distillers) has already begun manufacturing the healthier white wine, which has the same taste, color and aroma of regular white wine, according to the researchers.
These recipes are courtesy of the Belmont Conference Center, an historic manor house built in 1738. Nestled in the rolling hills of Maryland, Belmont is located on 85 acres of exquisite rolling hills and fields, surrounded by Patapsco State Park. Owned by the American Chemical Society, Belmont is open year round, seven days a week for meetings, retreats, training seminars, weddings, company picnics and holiday receptions.
WHOLE CRANBERRY SAUCE
12 oz. fresh or frozen cranberries
1 c. sugar
1 ¼ c. water
Juice and grated rind of one orange
Wash cranberries and pat dry. In a 2-quart saucepan combine sugar, water, orange rind and juice. Cook, stirring over medium heat, until sugar dissolves. Add cranberries to sugar syrup, bring to a boil, and cook until cranberry skins start to break or pop, about 1 minute.
Remove cranberries from the heat and pour into a 3-cup bowl or storage jars with lids to cool. Sauce can be stored, covered, in the refrigerator for up to 10 days, or placed in airtight jars in the freezer for up to 3 months. (Leave 1/2-inch space between sauce and jar lid.)
CRANBERRY BREAD
2 c. all purpose sifted flour
1 c. sugar
1 ½ tsp. baking powder
¼ c. shortening
1 egg, well beaten
½ tsp. baking soda
¾ c. orange juice
1 tbs. grated orange rind
½ c. chopped walnuts
2 c. cranberries, coarsely chopped in blender
Preheat oven to 350 degrees. Sift together flour, sugar, baking powder, soda and salt. Cut in shortening until mixture resembles corn meal. Combine orange juice and rind with beaten egg. Pour orange juice and egg mixture into dry ingredients. Mix just until damp. Add cranberries and nuts. Bake in loaf pan for 1 hour. Cool in pan.