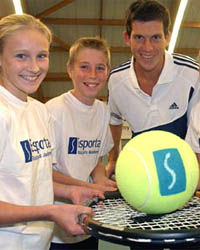 Household favorite Tim Henman demonstrates his commitment to increasing the profile of tennis in the UK as the official patron of The Esporta Racquets Academy, a nationwide initiative dedicated to nurturing Britain's tennis stars of the future. To mark the launch of The Esporta Racquets Academy, the UK number one seed will participate in a Junior Masterclass at Esporta Riverside Chiswick.
The Esporta Racquets Academy is assisted by The Tennis First Charitable Trust (T.F.C.T), originally founded at the Esporta Riverside Chiswick club in 1999 and supported by Peter Beckwith, one of The Academy's Trustees and the Lawn Tennis Association (LTA). The T.F.C.T has previously helped tennis stars such as Alex Bogdanavic and Anne Keothavong who both played in Wimbledon in 2002 and 2003 and who are now competing on the ATP Tour and WTA Tour respectively.
David Felgate, Director of Performance at the LTA and previously Henman's coach confirms the LTA's support of the Academy. "The LTA is keen to help give children more opportunities to realise their talent and is determined to ensure tennis is an accessible, non-elitist and fun sport for all to enjoy. We are working hard to fund a quality tennis infrastructure and Academies such as this will undoubtedly help in achieving that," he said.
The nationwide scheme will comprise a schools' outreach programme, which will seek to identify sporting talent among all children whether on the football pitch or on the athletics track. Local talent identification programmes will also take place across the 18 Esporta Racquets Clubs in the UK, open to members and non-members.
Neil Gillis, CEO Esporta explains: "It is still widely perceived that tennis is an elitist sport dominated by privileged children and therefore considered responsible for the fact that Britain has not produced a Grand Slam champion since the 1930s. With 18 Racquets Clubs around the UK, Esporta is well positioned to open its doors to all children across the UK and is committed to helping and nurturing a new generation of tennis stars."
The most talented children will be invited to join The Esporta Racquets Academy, which comprises a structured membership scheme that reflects the 'all welcome' philosophy of The Academy. Tennis scholarships will be awarded to promising young players depending on their level of ability from grass roots upwards, to assist with their development so their full potential is met. From coaching to equipment, The T.F.T.C will help to raise money to fund bringing children up the ranks.
All clubs in turn will become part of the LTA Performance Club Accreditation while The Academy will help players enter national and international tournaments as well as assisting in the funding of the performance programmes within the Esporta Group.