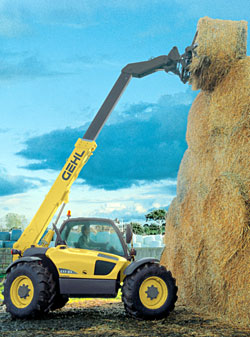 Gehl recently introduced five new CT-Series telescopic handlers: CT5-16, CT5-16 Turbo, CT6-18 Low Profile, CT6-18 Turbo, and CT7-23 Turbo.
These models are extremely versatile, compact and durable machines, which can be used in almost any construction, agriculture, and landscape application. Designed to make loader and material handling tasks easy, they offer superb performance, quiet and spacious ergonomically designed cabs, superior load capacity, tight turning radius, and three-mode steering.
The new Gehl CT-Series telescopic handlers feature maximum capacities from 5000 to 7000 pounds, maximum lift heights from 16'2" to 22'7", and rated capacities from 5000 to 6000 pounds. Powerful turbocharged and naturally aspirated diesel engines range from 58 hp to 101 hp and comply with EPA Tier II regulations.
The pilot-controlled hydraulic system allows precise handling of large loads with minimal effort. No matter what the application, the joystick's comfortable operation is ideal for any operator. A tri-function joystick is standard on the CT7-23 and CT6-18 Turbo models, while the CT5's and the CT6-18 Low Profile offer a joystick and dual-levers. Auxiliary hydraulics are standard on all models.
On all turbocharged models, the view from the quiet, vibration-insulated enclosed cab is a full 360 degrees. It includes a fully adjustable deluxe seat with suspension, a split-level door, rear window that opens, and front, rear, and roof-mounted wipers. Three cab-mounted work lights, road lights, turn signals, tail and backup lights are all standard equipment. Air conditioning is standard on the CT7-23 and optional on the CT5-16, CT5-16 Turbo, CT6-18 Low Profile, and CT6-18 Turbo.
The hydraulic quick-attach system allows fast and easy changes of attachments. This system features a hydraulic circuit for attaching buckets and forks without leaving the cab. A hydraulic locking feature is included to avoid accidental actuation of the auxiliary circuit. A wide variety of attachments are available including, a selection of forks, carriages, buckets and hay tools for loader and material handling applications.
The CT5-16 and CT5-16 Turbo have maximum lift capacities of 5000 pounds all the way to the top. That means a full pallet of cement blocks or bricks can be lifted more than one-and-a-half stories. And both models have an overall height less than 7', making them usable in buildings with low entryways. An easy-to-use hydrostatic transmission with a power shuttle is standard.
The CT6-18 Low Profile and CT6-18 Turbo are designed for applications that require extra lift capacity; they meet the challenge by lifting 6000 pounds to full lift height. Both machines can use a 92" wide, 2.5 cubic yard light-material bucket. The CT6-18 Low Profile has a cab height less than 7', which makes it capable of working in garages and small poultry barns. The CT6-18 Turbo, with a powerful 101 hp engine and tri function joystick, is designed for agriculture applications. The large 17.5LR x 24 xM27 tires and quick-attach system are standard, to increase productivity.
The CT7-23 is suited for tough agricultural applications. With its 101 horsepower turbocharged engine and cyclonic pre-filter, it has an abundance of power for using a 2.5 cubic yard bucket. It has a load-sensing hydraulic system that features a variable-displacement piston pump. It is an excellent match for the Gehl Bunker Buster II attachment for silage and haylage. The hydraulic system is efficiently cooled and simple to clean. The engine is side-mounted for ease of maintenance and service. Its easy-to-use transmission is fully synchronized, with a torque converter and a power shuttle that requires no manual clutching, to enhance loader work. The torque converter and modulated soft shift clutch ensures smooth shifting. For the long hauls, maximum transport speed is 21 miles per hour.
Gehl provides compact construction equipment and agriculture implements.