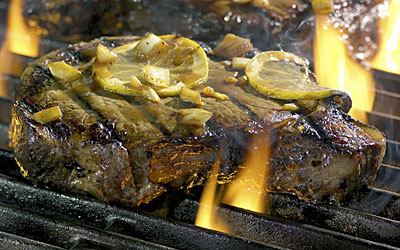 Americans have been grilling hamburgers behind their horse and buggies since the first football games. Today, tailgating has become a culinary spectacle, with fans of all ages cooking up a feast in stadium parking lots all across the country. In an effort to uncover the best tailgate recipes in the United States, Heinz is kicking off its second national tailgate recipe contest.
The goal is to find the best tailgate recipes in the nation and share them with consumers hungry for innovative and creative tailgate fare.
Heinz has hosted numerous tailgate events, including the creation of special tailgating stations where fans can sample recipes. In addition, Heinz recently released a new book called Heinz Field Touchdowns to Tailgatin. In the book, Heinz has included football trivia and anecdotes along with over fifty of the greatest tailgating recipes.
To enter the contest, participants simply need to fill out an entry form available on the Heinz website, and submit their best tailgate recipe idea.
"Last year we were so impressed by the hundreds of entries we received for our first tailgate recipe contest," said co-author Rania Harris. "We are looking for the most creative, flavorful recipes, and ones that we will include in our next cookbook and share with everyone who loves tailgating." Harris said that there are numerous tips to tailgating success in the book, as well as fun football facts, and of course, terrific recipes.
The following is one of Chef Harris' favorite tailgate recipes appearing in the Heinz Field Touchdowns to Tailgating cookbook:
Recipe for Grilled Rib-Eye Steak with Tennessee-Style Mop Sauce
Ingredients:
2 12-ounce cans of beer
6 ounces Heinz Spicy Brown Mustard
8 ounces Heinz Worcestershire Sauce
16 ounces Jack Daniel's Tennessee Hickory Barbecue Sauce
4 ounces honey
Pinch of hot chile flakes
4 ounces Heinz Red Wine Vinegar
1 large white onion - chopped
2 lemons - sliced
6 rib-eye steaks - about 8-10 ounces each
Ore-Ida Extra Crispy Golden Crinkles
Heinz Organic Ketchup
For the sauce, combine all the sauce ingredients in a large pot. Bring to a boil, reduce heat and cook on a medium heat until all the ingredients are blended and the sauce begins to thicken, about 30-40 minutes. Preheat the grill to a medium-high heat.
Mop the steaks with the sauce and grill them to a desired degree of doneness. Warm the remaining sauce and serve it on the side. Serves 6
When buying steaks, choose thicker cuts that have a good amount of marbled fat because marbling results in a much tastier steak.