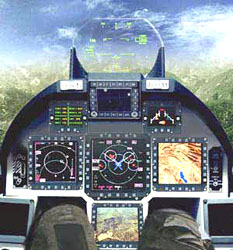 Rockwell Collins has received a five-year, $130 million contract from the Naval Inventory Control Point (NAVICP), Philadelphia, for a Performance Based Logistics (PBL) program. The effort entails the management, support and repair of the F/A-18A/B/C/D and F-14D tactical cockpit displays.
Under the contract, Rockwell Collins will become the Inventory Control Point for the F/A-18A/B/C/D and F-14D Head-Up Displays (HUD) and Head Down Displays (HDD) and will be one of three depots that will perform repairs on the equipment. Rockwell Collins is entering into contracts with the Naval Air Depots at North Island in San Diego, Calif. and at Jacksonville, Fla. The depots will jointly perform approximately 66 percent of the equipment repairs. Rockwell Collins, as lead, will provide the depots with logistics support.
"This program demonstrates the breadth of services that Rockwell Collins offers," said Bob Gabel, director, production programs for Rockwell Collins. "In addition to manufacturing quality avionics and communications products, Rockwell Collins provides cost-effective service and support. The combination of Rockwell Collins and the Naval Air Depots will provide the end users with outstanding support for years to come."
Rockwell Collins and the two depots have been performing repairs to the equipment since the aircraft entered the fleet. Rockwell Collins will now manage the equipment inventory in San Jose, Calif. and in response to requisitions deliver repaired equipment directly to the fleet.
Rockwell Collins is an industry leader in providing defense and aerospace industry with technologies required to manage, deliver and display data for information superiority. Through its Kaiser Electronics business, the company supplies a complete range of high quality display system solutions for tactical fighter/attack aircraft including head down, head up and helmet mounted displays.
Rockwell Collins provides design, production and support of aviation electronics and communications for government and commercial customers worldwide.