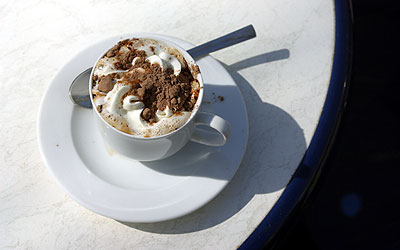 Today, Starbucks Coffee Company, T-Mobile USA and HP celebrate the one-year anniversary of the launch of T-Mobile HotSpot, the nation's largest carrier-owned Wi-Fi service, by offering customers an enhanced digital entertainment experience at Starbucks coffeehouses that will have them happily singing "the blues."
Beginning today, Starbucks customers will be rewarded with a unique multimedia experience. Throughout October, customers using a Wi-Fi enabled notebook computer while at select Starbucks locations can watch classic blues performances from legends like Howlin' Wolf and Muddy Waters, listen to an array of great blues tunes, and see videos of noteworthy musicians sharing how blues music and artists influenced them. The multimedia content, powered by HP, is based on the Hear Music CD, titled Got a Feeling Called the Blues and salutes the "Year of the Blues" as designated by the United States Congress.
In addition to offering customers a rich and compelling in-store digital entertainment experience, Starbucks launched the T-Mobile HotSpot wireless broadband Internet service at 250 Starbucks locations in Michigan and North Carolina today -- giving customers high-speed wireless access to the Internet and their corporate intranets.
The T-Mobile HotSpot service will also be extended to more Starbucks stores within selected markets currently offering the service: Arizona, California, Colorado, Connecticut, Florida, Georgia, Illinois, Maryland, Massachusetts, Minnesota, Nevada, New Jersey, New York, Oregon, Pennsylvania, Texas, Virginia, Washington and Washington, D.C. The T-Mobile HotSpot service is available in approximately 2,600 Starbucks stores in the United States. The number is expected to grow to 2,700 by the end of 2003.
Usage of the T-Mobile HotSpot service at Starbucks continues to grow. With millions of accesses since the launch of the service, customers are finding that Starbucks is the ideal "third place" between home and the office to catch-up on email, listen to digital music, put the finishing touches on a presentation, or access their corporate intranet. Proving the broad acceptance of Wi-Fi by Starbucks customers, internal research shows that the average connection is approximately 45 minutes in duration and more than 90 percent of T-Mobile HotSpot accesses are during the off-peak store hours, after 9 a.m.
To log into the T-Mobile HotSpot service and establish a connection, customers with a Wi-Fi (802.11b) enabled notebook computer, Tablet PC or Pocket PC simply need to launch their Internet browser from within a participating Starbucks and log in. The T-Mobile HotSpot service is backed by high-speed T-1 connections that are reliable and fast enough to accommodate the full spectrum of applications from checking e-mail to rich multimedia video. T-Mobile HotSpot window signs are visible near the entrance of all participating Starbucks locations.