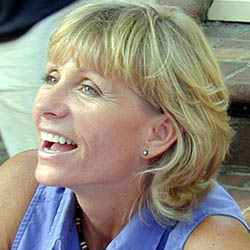 Tina Wesson answered questions and signed autographs with Jeff Varner at King's Dominion in Virginia on July 21, 2001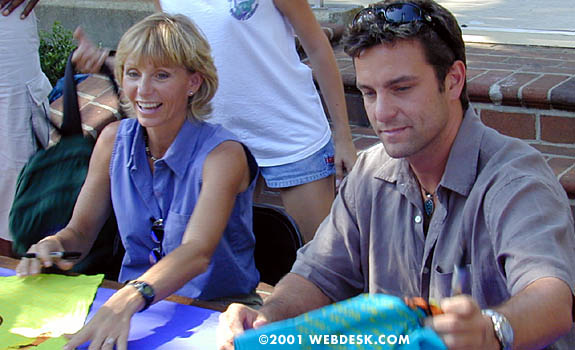 Tina Wesson currently works as a private duty C.N.A. nurse while also working as a full-time mom. Formerly, she worked as a community education director, flight attendant, substitute teacher and a swimming instructor. Wesson obtained a Bachelor of Science degree in therapeutic recreation from the University of Tennessee in 1983. An avid athlete, she is most proud of having completed the Dublin, Ireland Marathon, placed first in the Tennessee State Racquetball Tournament and placed first in her age division in her hometown mini-triathlon, all in the same year (1998). Her quest in life continues to be to "live the life less ordinary."

Wesson describes herself as happy, content, adventurous, outgoing, and very much in love. Her favorite hobbies are racquetball, paddleball , running, swimming, and motorcycling. Her favorite television show is Rosie, while her favorite feature films are Out of Africa and Shadowlands. She prefers classic, contemporary Christian, and pop rock music, citing Match Box 20 as her favorite band. While rooting for the University of Tennessee Volunteers, she's always game for a round of Balderdash. Her perfect day consists of eating a good breakfast followed by a ride on her motorcycle to the mountains with her husband and her best friend. After a hike, she'd play racquetball, take a shower, have dinner, see a movie while eating a big bag of popcorn and then head home to bed. She's an early riser.

Born and raised in Knoxville, Tennessee, Wesson currently resides there with her husband, Dale, and her two children, Katie and Taylor. She is a member of the Outstanding Young Women of America and the Fellowship of Christian Athletes. Her birth date is December 26.
Favorite Color: YELLOW
Favorite Smell: CUT GRASS, CHOCOLATE
Favorite Flower: DAISY
Favorite Game: BALDERDASH
Favorite Sports Team: UNIVERSITY OF TENNESSEE VOLUNTEERS
Favorite TV Show: ROSIE
Favorite Movie: OUT OF AFRICA, SHADOWLANDS
Favorite Actor: ANTHONY HOPKINS
Favorite Actress: MERYL STREEP
Favorite Music Type: CONTEMPORARY CHRISTIAN
Favorite Band: MATCH BOX 20
Favorite Magazines: OPRAH
Favorite Breakfast: EGGS AND BACON
Favorite Dinner: STEAK (medium rare) AND BAKED POTATO
Favorite Vegetable: CORN
Favorite Snack Food: CHEDDAR CHEESE GOLDFISH, POPCORN, DORITOS
Favorite Candy Bar: BUTTERFINGER, MILKY WAY
Favorite Dessert: CHOCOLATE FONDUE
Favorite Alcoholic Beverage: DOES NOT DRINK ALCOHOL
Favorite Non-Alcoholic Beverage: DR. PEPPER