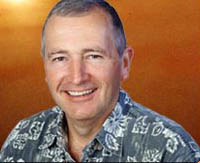 Like his parents, grandparents and great-grandparents before him, Bingham was born, raised and continues to make his home in Crittenden, Kentucky. Married for over 33 years to his wife, Patricia, his proudest accomplishment is their daughter, Angela.

Bingham studied education at Eastern Kentucky University where he received a bachelor's degree of science for industrial education and a master's degree in education. In addition to teaching industrial arts to students at Grant County High School, Bingham is a part time farmer and real estate investor. Previous occupations include ten years as Chief Executive Officer of a bank, owner of a lumber company and owner of a hardware store.

A self-described workaholic, Bingham is also inventive, diligent and able to adapt to different situations and personalities.

He is an elder at the Crittenden Christian Church and a member of the local Sportsmen Club. His birth date is July 5, 1947.
Rodger is an industrial arts teacher in Grant County High School, located in Kentucky. He lives in nearby Crittenden, is married, and is described at "middle-aged and religious."
Favorite Color: RED
Favorite Smell: FRIED CHICKEN
Favorite Flower: DAISY
Favorite Game: PING PONG
Favorite Sports Team: CINCINNATI REDS, UNIVERSITY OF KENTUCKY BASKETBALL TEAM
Favorite TV Show: SURVIVOR, ECO-CHALLENGE, EVERYBODY LOVES RAYMOND
Favorite Movie: FORREST GUMP, HOOSIERS
Favorite Actor: TOM HANKS
Favorite Actress: MICHELLE PFEIFFER
Favorite Music Type: COUNTRY
Favorite Band: ALABAMA
Favorite Magazines: KITLINGER FINANCIAL BOOK, GUNS & AMMO
Favorite Breakfast: OATMEAL (Hot Oats)
Favorite Dinner: STEAK (Well Done)
Favorite Vegetable: GREEN BEANS, CORN, BAKED POTATO
Favorite Snack Food: BEN & JERRY'S NEW YORK DOUBLE DUTCH CHOCOLATE
Favorite Candy Bar: SNICKERS
Favorite Dessert: CHOCOLATE CAKE, COCONUT CREAM PIE
Favorite Alcoholic Beverage:
Favorite Non-Alcoholic Beverage: DIET PEPSI, MAXWELL HOUSE COFFEE