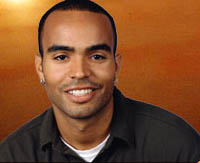 Nick Brown is entering his second year at Harvard Law School and hopes to join the Army's Judge Advocate General's office upon graduation. While attending Morehouse College in Atlanta, he was a member of the R.O.T.C. and is currently an officer in the United States Army.

He spent this past summer as a student associate at a leading San Francisco law firm and has also worked in Olympia, Washington at the Attorney General's office. In addition, Brown was a research assistant for the Human Rights Commission. When he is not attending law school or clerking, Brown lives in Steilacoom, Washington, and has previously resided in San Francisco, Atlanta and Ausburg, Germany.

Brown describes himself as compassionate, incisive, and ambitious. In addition to his position with the United States Army, he a member of the Black Law Students Association and has modeled in the past.

His birth date is April 2, 1977.
Nick, 25, is single but has a girlfriend named Mackenzie. He hails from Steilacoom, Wa., and graduated in 1995 from Steilacoom High School.
Favorite Color: GREEN
Favorite Smell: SPICY
Favorite Flower: NOT LISTED
Favorite Game: CHESS
Favorite Sports Team: SAN FRANCISCO 49ERS
Favorite TV Show: LAW & ORDER
Favorite Movie: DEAD POETS SOCIETY
Favorite Actor: DENZEL WASHINGTON
Favorite Actress: FRANCES McDORMAND
Favorite Music Type: HIP HOP
Favorite Band: JOHN COLTRANE
Favorite Magazines: NEWSWEEK, CODE
Favorite Breakfast: RASPBERRY CREPES
Favorite Dinner: FAJITAS
Favorite Vegetable: ASPARAGUS, FRESH PEAS, CORN ON THE COB
Favorite Snack Food: ROLD GOLD PRETZELS
Favorite Candy Bar: SNICKERS
Favorite Dessert: FRUIT TARTS/BERRY PIES/BLACKBERRIES, STRAWBERRIES, RASPERRIES
Favorite Alcoholic Beverage: HENNESSEY ON THE ROCKS
Favorite Non-Alcoholic Beverage: PEPSI