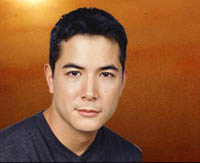 Captain Kel Gleason is an Intelligence Officer in the United States Army. He has a bachelor's degree in radio/television communications and has completed work toward a Masters degree in telecommunications at Southern Illinois University at Carbondale. Before entering the Army, Gleason worked as a production assistant for CBC (Canadian Broadcasting Corporation) Radio.

Gleason was commissioned in the Army in 1996 and immediately posted to Germany for three years. While posted there, he was a platoon leader and a battalion staff officer for intelligence and security. During that same period, he was also assigned to Bosnia in conjunction with the peacekeeping operation there.

Born in Murphysboro, Illinois, Gleason and his family moved to Fredericton, New Brunswick, Canada, where he lived until he completed high school. After graduation, Gleason moved back to the United States and has been based here ever since.

On visits home, Gleason enjoys camping, fishing, and kayaking with his dad, a retired professor. In addition, he is avidly interested in his South American Indian (Quechuan) heritage, particularly its history, art, and cuisine. He loves to cook, having learned his culinary skills from his Peruvian mother, who teaches gourmet cooking in the family home. Gleason's hobbies include weightlifting, running, rollerblading, snorkeling, photography, and skiing.

Currently single, Gleason recently relocated to Fort Hood, Texas. His birth date is January 5, 1968.
Kel has parents who live in New Brunswick, Canada. He is single.
Favorite Color: RED, NAVY BLUE
Favorite Smell: EVERGREEN TREES
Favorite Flower: ORCHIDS
Favorite Game: CHESS, PICTIONARY
Favorite Sports Team: UCLA BASKETBALL, SAN FRANCISCO 49ERS
Favorite TV Show: 60 MINUTES, 48 HOURS, X-FILES
Favorite Movie: MANHATTAN, DEER HUNTER, ANNIE HALL
Favorite Actor: ROBERT De NIRO, AL PACINO
Favorite Actress: MIA FARROW, ANNETTE BENNING, JODIE FOSTER
Favorite Music Type: TECHNO/JAZZ (Clubbing), ACOUSTIC GUITAR (Home)
Favorite Band: ELVIS COSTELLO, LLOYD COLE & THE COMMOTIONS
Favorite Magazines: NATIONAL REVIEW, GQ
Favorite Breakfast: BLUEBERRY PANCAKES (With Canadian maple syrup), FRESH O.J.
Favorite Dinner: MEDITERRANEAN GREEK (Rice & seafood mix)
Favorite Vegetable: ZUCCHINI, ASPARAGUS, MUSHROOMS
Favorite Snack Food: POWER BARS (Apple Cinnamon), RICE CAKES (Banana Nut)
Favorite Candy Bar: GRANOLA BARS (Honey Oat)
Favorite Dessert: FRUIT SALAD, BLACK FOREST CHOCOLATE CAKE
Favorite Alcoholic Beverage: DRY WHITE WINE (German)
Favorite Non-Alcoholic Beverage: WHEY PROTEIN SHAKE, CRANBERRY, APPLE, OR ORANGE JUICE