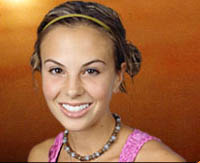 Elisabeth Filarski is a recent graduate from Boston College living in Newton, Massachusetts. She is a footwear designer and spends her free time creating greeting cards and personalized planners, running and hanging out with her friends and family.
While she was in Boston, she played softball.
Prior to Boston, Filarski lived in Providence and Cranston, Rhode Island, spent time in Belize teaching in the rainforest and spent three weeks in Italy developing products for her job.
She describes herself as impulsive, intuitive, and devoted. Filarski enjoys watching football (particularly when her boyfriend Tim is playing), partaking in outdoor sports, and listening to her brother Kenny jam on his guitar. Filarski played softball while attending Boston College.
Her birth date is May 28, 1977.
Elisabeth, 23, is single but has a boyfriend named Tim-who happens to be Tim Hasselbeck, the Boston College quarterback. She attended Boston College where she played on the softball team. Her family lives in Rhode Island.
Favorite Color: Lime Green
Favorite Smell: BREAKFAST SMELLS
Favorite Flower: BIRD OF PARADISE
Favorite Game: PICK UP STICKS
Favorite Sports Team: BOSTON COLLEGE EAGLES (Football)
Favorite TV Show: SATURDAY NIGHT LIVE (old commercials)
Favorite Movie: SHAWSHANK REDEMPTION
Favorite Actor: KEVIN SPACEY
Favorite Actress: MEG RYAN
Favorite Music Type: 80s POP, ALTERNATIVE
Favorite Band: DURAN DURAN
Favorite Magazines: IN STYLE, SHUZ, WALLPAPER
Favorite Breakfast: SCRAMBLED EGGS
Favorite Dinner: BREAKFAST, STIR FRY
Favorite Vegetable: CUCUMBERS, FRESH GREEN BEANS
Favorite Snack Food: CASHEWS, PEANUT BUTTER, COLD SMOOTHY
Favorite Candy Bar: SOUR PATCH KIDS
Favorite Dessert: BEN & JERRY'S DEVIL
Favorite Alcoholic Beverage: VANILLA STOLI
Favorite Non-Alcoholic Beverage: ORANGE SELTZER WATER