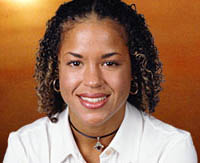 Alicia Calaway is a personal trainer currently living in Manhattan. Originally from Connecticut, where she lived for over 26 years, Calaway also lived in Norway for 2 months. She graduated from the Fashion Institute of Technology in New York City with two Associates in Applied Science Degrees, one with honors from the dean's list. Past professions include a computer graphic artist and aerobics instructor.
Calaway describes herself as charismatic, competent and passionate, and enjoys cooking, entertaining, and horseback riding. The accomplishment she is most proud of is when she won the AAU (Amateur Athletic Union) Ms. Connecticut Amateur Natural Bodybuilding Competition in 1994. She is certified through the National Academy of Sports Medicine (NASM) and is a medical exercise specialist of the American Academy of Health, Fitness and Rehabilitation. She is also CPR certified with the American Red Cross.
Her date of birth is May 1, 1968.
Alicia, who hails from Fairfield, Ct., has a boyfriend named Thomas
Alicia Calaway is a personal fitness instructor from New York, New York. Alicia works at both the David Barton Gym and the LiftGym in Manhattan, and has been described to us as "tough as nails," a "knockout," and the "hottest woman in the whole damn place." (Apparently, and unfortunately, she's also quite aware of her beauty.) Further, we were recently informed that "if there are hetero men on the new show, she will never be voted off." Look for Alicia to turn aboriginal heads in the upcoming season.
Favorite Color: DEEP RED
Favorite Smell: LILY OF THE VALLEY
Favorite Flower: TULIPS
Favorite Game: SCRABBLE
Favorite Sports Team: NEW YORK YANKEES
Favorite TV Show: WILL & GRACE
Favorite Movie: WILLY WONKA AND THE CHOCOLATE FACTORY
Favorite Actor: KEVIN SPACEY
Favorite Actress: NOT LISTED
Favorite Music Type: R & B
Favorite Band: STEVIE WONDER
Favorite Magazine: ELLE
Favorite Breakfast: STRAWBERRY & ALMOND CROISSANTS
Favorite Dinner: FRADI-ORLO SPICY SHRIMP OVER LINGUINE
Favorite Vegetable: BROCCOLI
Favorite Snack Food: CARAMEL POPCORN, BAKED LAYS POTATO CHIPS
Favorite Candy Bar: STRAWBERRY TWIZZLERS
Favorite Dessert: ANYTHING CHOCOLATE
Favorite Alcoholic Beverage: CORONA WITH LIME
Favorite Non-Alcoholic Beverage: DIET COKE