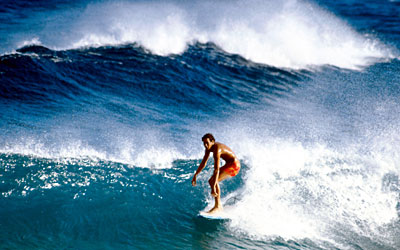 Ultimate Guide to Surfing - Wavelength Magazine, July 2001: "This book is a dream for the beginning surfer, a more concise surfing book is probably not to be found."
If you are looking for inspiration and a balanced blend of professional tips to improve your technique The Ultimate Guide to Surfing can deliver. Presented by professional surfers Jay Moriarity and Chris Gallagher. The Ultimate Guide to Surfing provides a mix of personal insight, professional tips and fantastic photography.
Early chapters provide a background to surfing and discuss the role it has in the lives of so many enlightened souls around the world. As well as tips for manoeuvres there is plenty for those wanting to read about big wave surfing and a helpful glossary for the uninitiated.
Lifestyle and passion are fundamental to Freesports and the aim of the Ultimate Guide series was to offer readers an insight into the sports through the eyes and words of some of the sports leading professionals. All participants know the addictive nature of surfing and no matter how much time you are able to dedicate to your passion everyone is certain to relate to the words in the Ultimate Guide.
Throughout the book readers are treated to outstanding photography. The Ultimate Guide to Surfing is packed with images from Alex Williams, a surf photographer with over twenty years of professional experience and a well earned reputation as a talented trigger finger and regular contributor to surf magazines and journals world-wide.
There are plenty of quotes and highlighted sections that bring out the key elements and make it easy for readers to feel they have gained an in-depth understanding of what makes the riders tick.
If you are a participant, a potential new recruit keen to find out more or if you want your friends and family to understand why they see so little of you at weekends The Ultimate Guide is for you.