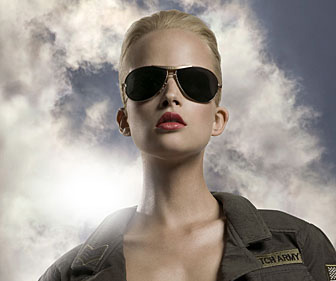 Los Angeles-based fashion company and lifestyle brand Von Dutch Originals has expanded into a new product category by introducing a new line of premium sunglasses.
Made in Italy, using top quality lens technology and materials, the line of men's, women's, and unisex sunglasses is a collaboration between Von Dutch's designers and top Italian manufacturers.
Eyes ($120-$150) features injection-mold plastic frames that include graphic logos along the arms of the glasses. This new style of graphic application is a design concept that Von Dutch is proudly pioneering. Kustom Eyes ($230-$550) features high-quality acetate frames, as well as nickel-free, hypoallergenic, stainless-steel frames.
"It was important to us to maintain the brand image and keep a consistency between our fashion apparel and eyewear," said Niels Juul of Von Dutch Originals. "We aimed to create a line of sunglasses that could properly compliment our fashion line. The artistic expression on the frames reflects the same level of individuality as on our apparel. We used fresh designs and varied graphics to match our current collection."
"For us, it was really all about creating this continuity between the eyewear and clothing."
"This is a division that I have been looking forward to creating for some time, said Von Dutch Originals CEO Tonny Sorensen. "With Niels' 15 years of experience in the sunglass industry and Von Dutch's proven name as an international lifestyle brand, we feel that we are ready to enter this market and make a significant impact."
Von Dutch Kustom Eyes has secured distribution in several countries and has signed on several major stores.
Von Dutch Originals is based on Los Angeles.