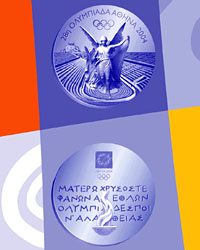 The President of the Hellenic Republic, Constantinos Stephanopoulos, visited today the Olympic venues of the Olympic Village, the Nikaia Olympic Weightlifting Hall, the Faliro Olympic Taekwondo and Beach Volleyball Centres, and the Agios Kosmas Olympic Sailing Centre. The President of Greece was welcomed at the Olympic Village by ATHENS 2004 President Gianna Angelopoulos-Daskalaki, who accompanied him to all the visits to Olympic venues.
September 14, 2003 - Mountaineers of the Pieria region receive flag from Athens 2004 to be placed on the top of mount Olympus
In a simple but warm ceremony held in the ancient site of Dion, in the Pieria region, about sixty mountaineers and members of the Alpine Club of the area received the ATHENS 2004 flag from ATHENS 2004 Managing Director, Ioannis Spanudakis, to carry up to Mount Olympus and place it on the Mytikas peak (the legendary throne of Zeus).
The Professor of Archaeology at the Aristotle University of Thessaloniki, Dimitrios Pantermalis, spoke of the historical dimension of the Olympic Games and the direct link between the Olympic Games and the highest mountain of Greece, Mount Olympus, which according to mythology was inhabited by the ancient Greek gods.
Mr. Spanudakis highlighted the symbolic nature of the task the mountaineers of Pieria have undertaken: to fly the Athens 2004 flag on the top of Greece, and said that the 2004 Olympic Games are a major national issue. He also reminded his audience that the Athens 2004 flag was already at the top of Europe, in Caucasus, and on the uppermost peaks of South Pole and South America.
As soon as the ceremony was over, the team of 60 mountaineers set off on their ascent up the mountain of the gods and is expected to reach the Mytikas peak tomorrow morning.