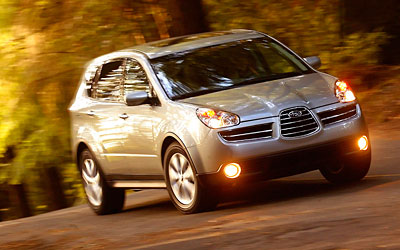 National advertising has begun for Subaru's all new progressive SUV, the Subaru B9 Tribeca, on sale now in dealer showrooms. The ads demonstrate the unique combination of dynamic styling, engaging drivability, and real world versatility of the 2006 Subaru B9 Tribeca that makes all other SUVs obsolete.
"The new ads for Subaru B9 Tribeca signal the end of the SUV as we know it and the beginning of what an SUV should be," said Rick Crosson of Subaru.
The B9 Tribeca ads are the next step in an integrated marketing campaign from ad agency DDB New York under the new Subaru brand philosophy Think. Feel. Drive. Ads will utilize mediums including TV, print, radio, interactive, direct, and outdoor media.
The Dust in the Wind television spot is designed to change the way the world looks at an SUV. In one scene, an SUV pulls up and stops at a red light. A driver in a Subaru B9 Tribeca pulls up alongside the SUV. When the B9 Tribeca pulls away, we see the SUV has turned to dust. In another scene, a passing Subaru B9 Tribeca leaves a parked SUV covered in cobwebs. In the finale, the B9 Tribeca passes a car carrier full of SUVs. The SUVs turn to dust and are blown away in the wind to the music of Dust in the Wind by Kansas.
"This campaign boldly takes on the SUV category, showing that Subaru, the first car maker to dedicate itself to All Wheel Drive, is demonstrating its leadership again by bringing consumers what they want - a progressive SUV with versatility, style and confidence inspiring driveability," said Lee Garfinkel of DDB.
The new television spot will run on network and national cable. The network presence will include early morning news programs, evening news, primetime, and late night.
Print ads with a similar theme will appear in car enthusiast magazines and publications.
Over two hundred billboards in twenty markets will also deliver this message.