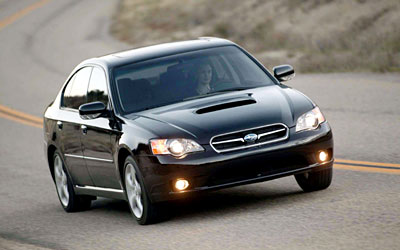 On May 19, Subaru will launch its latest ad campaign as part of its largest marketing investment in the history of the brand. The new ads are part of an integrated marketing campaign that will support its 2005 model lineup that includes the completely redesigned Subaru Legacy and Outback.
"As Subaru transitions to a premium brand, our new innovative products will lead the way," said Rick Crosson, vice president of marketing, Subaru of America, Inc. "Our inspired engineering combined with product innovation that leads to a superior driving experience, is what differentiates us and gives us a competitive advantage. The new ads showcase both the strong emotional as well as functional benefits of our products."
The new spots, created by TM Advertising and featuring the 2005 Subaru model lineup, will again be endorsed by Lance Armstrong under the tag line "Driven By What's Inside." While six of the seven television spots feature individual products, one spot is reserved specifically for the company's 100 percent commitment to Symmetrical All-Wheel Drive. The new spots will appear on national cable and spot TV in more than 80 markets.
"Creatively, the campaign is unlike anything Subaru has done before," said Jim Ferguson, chairman and chief creative officer of TM Advertising. "We wanted to do advertising that made as bold a statement about the direction of the brand as the new cars do. The new creative makes the cars the stars in a way that's fresh, exciting and very premium in its look and feel."
The new print advertisements feature high-fashion photography of the vehicles and an interactive layout. The print ads will begin appearing in late May in weekly publications such as People, Newsweek, Sports Illustrated, Time and Entertainment Weekly. The ads will also run in the July issues of national publications including Cooking Light, Men's Health, Vanity Fair and approximately two dozen other national publications.
Last year, the company set a new sales record, selling nearly 187,000 vehicles. This year, with the launch of the all-new 2005 Legacy and Outback, the company expects sales to increase to 204,000 units. To support this sales goal, the company is making the largest marketing investment it has ever made.
Highlights of the Subaru marketing plan this year include the new advertising campaign, the largest direct-mail initiative in the company's history, the first consumer ride and drive event in more than 10 years, new Web ads for PDAs, online virtual test-drives and vehicle support for the nearly 25 niche affiliate organization relationships.
Subaru of America is a wholly owned subsidiary of Fuji Heavy Industries of Japan.