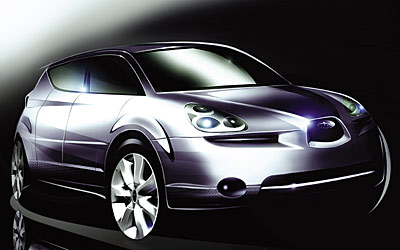 Subaru today announced the name of its all-new crossover utility vehicle, the Subaru B9X at the 2004 South Florida International Auto Show. The all-new 2006 Subaru B9X is the first-ever Subaru crossover utility vehicle with available seating for seven passengers.
"This is a significant milestone for Subaru," said Kunio Ishigami. "The Subaru B9X combines a bold new design with the trademark Subaru Symmetrical All-Wheel Drive system, and is our first seven passenger vehicle."
The world premiere for the Subaru B9X will occur at the Detroit Auto Show and represents a step into a new market for Subaru. The Subaru B9X is equipped with the legendary Subaru Symmetrical All-Wheel Drive system and features an all-new design theme, delivering added style to the capability, safety and durability Subaru is so well-known for.
"It is no coincidence that we are here in Miami, a market well-known for it's trend setting style, with an all-new Subaru," said Fred Adcock.
"This vehicle represents more than just a new style of Subaru. With its fun-to-drive handling and interior flexibility, this is also a Subaru that will appeal to a larger audience. The new B9X is the logical step for a current Legacy or Outback owner looking to move up in size, flexibility, feature content, and refinement."
The broad appeal of the Subaru B9X, like that of the recently redesigned 2005 Subaru Outback and Legacy, expands the Subaru product line with a vehicle that is larger than the Outback. Combined with superior ride and handling for the segment, the Subaru B9X will also appeal to customers looking for greater cargo capacity, expanding the Subaru brand's appeal to a new group of customers.
Three key elements to the new design are found on the Subaru B9X. One of the key focal points of the all-new 2006 Subaru B9X is the bold new grille and fascia design. A central air intake is flanked by two wings that relate directly to the history of Subaru as an aircraft manufacturer - illustrating the Subaru commitment to engineering excellence.
Also prominent in the new design is a curved roof line that expresses a sense of dynamic motion. Finally, powerful fender and wheel forms create the feeling of agility and driving performance.
The Subaru B9X design theme first appeared on the 2003 Geneva Show Car, the Subaru B11S, and was further refined on the Subaru B9SC and R1e concept cars, which both made their U.S. debut at the 2004 North American International Auto Show. As a model which has inherited this design theme, Subaru has named this vehicle the B9X.
The 2006 Subaru B9X will be built at the Subaru of Indiana Automotive plant in Lafayette, Indiana.