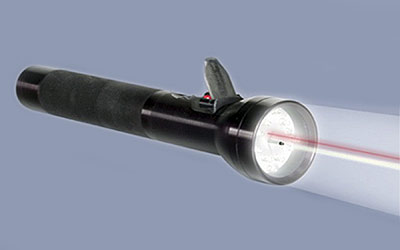 Universal Guardian Holdings announced today it will be launching its non-lethal Shield Defense Cobra Stun Light Non-Lethal Products at its worldwide senior management conference.
The Cobra Stun Light delivers high intensity light in a durable machined aluminum case and when needed will place a laser on a target and deliver a stream of non-lethal but effective chemical containing capsaicin II, up to a range of 21 feet.
The introduction will feature live action demonstrations of the product's features and capabilities. "We are excited to have completed the development of our products and have reached the stage where we can begin to demonstrate to the world what a leading edge non-lethal product can do," said Universal Guardian's CEO Michael Skellern.
"The Cobra Stun Light is the ideal non-lethal product for everyday use by civilian, law enforcement and military in these countries. I believe that the Cobra Stun Light, which is now available for sale, is a much safer and more versatile non-lethal device than other products such as the single shot Taser. All of our products can be fired multiple times without reloading," stated Dennis Cole, President of Shield Defense. "The effectiveness and cost advantages of our products over those currently in existence products offer significantly greater worldwide market appeal, in what could potentially be a multi-billion dollar worldwide non-lethal weapons market," stated Mr. Kurt Schaerer, Managing Director of Shield Defense International.
Secure Risks' Managing Directors, Regional Directors and Country Managers from the North America and South America, Europe, Middle East, Asia and Africa, as well as senior managers from Universal Guardian subsidiaries from around the world will coordinate operational and cross-marketing strategies designed to penetrate government, military, law enforcement and commercial markets on every continent. Secure Risks Managing Directors and Regional Directors will leverage existing security projects and contacts at senior levels of government and law enforcement to develop distribution channels in the countries in which they operate.
"Our corporate culture and customer base creates an unlimited opportunity to cross-sell all Universal Guardian security products, services and systems," stated Universal's Michael Skellern, Universal's CEO. "Our managers are also established senior intelligence and special operations executives who understand their respective markets and can effectively promote the sale of our products and services," continued stated Michael Stannard, Secure Risks' Managing Director and COO.
Secure Risks provides practical risk solutions, tactical security, and critical infrastructure protection.